It's changed so much since I was based here over 70 years ago…
It was the first time some of them had returned to Portsmouth in 75 years - but their vivid memories of the naval city made it seem like it was only yesterday.
Last month, a number of Navy veterans including from WWII, paid a very special visit to Portsmouth. The three day trip, funded and organised by the Royal Navy & Royal Marines Charity (RNRMC) in partnership with the Taxi Charity, was a huge success.
Let's see what they got up to…..
Wednesday, 10 April
Veterans arrived at HMS Excellent, Portsmouth…
Volunteer taxi drivers escorted a number of Navy veterans and carers to Portsmouth in traditional London Black Cabs.The WWII veterans were given a warm welcome by the Royal Navy & Royal Marines Charity, followed by lunch in the Wardroom at HMS Excellent.
They were also greeted by some very special guests including Vice Admiral Johns, RNRMC CEO Adrian Bell and our new Mascots.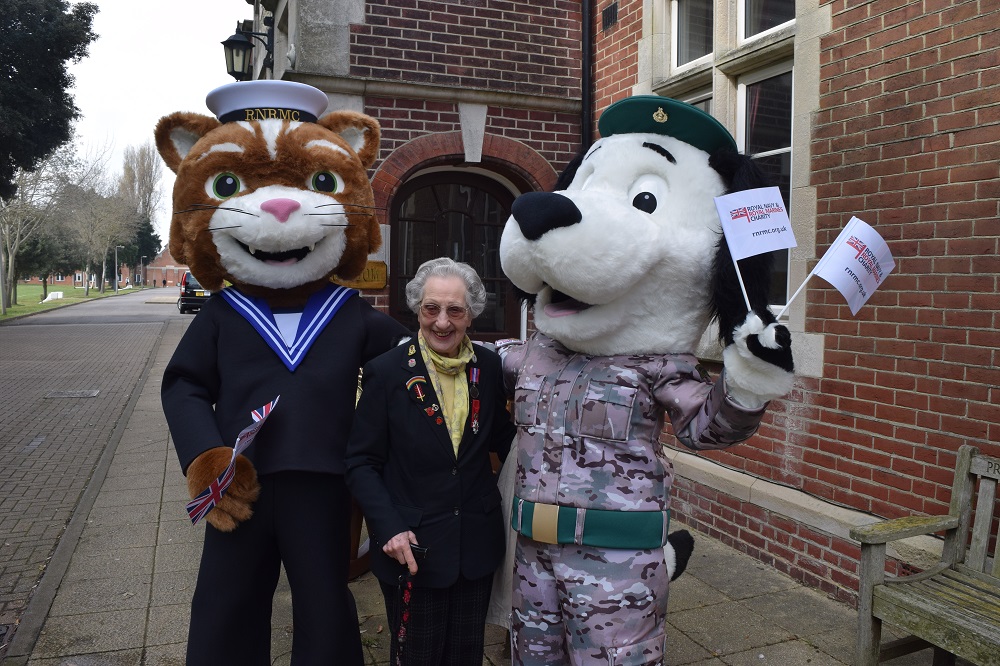 After lunch and a tour of the island, the veterans checked in to the Royal Maritime Club & Hotel.
Thank you to the children and staff at Whale Island Nursery School who welcomed the veterans upon arrival. Also, a big mention to the team at ESS on Whale Island for going above and beyond to provide all the guests with a two-course meal and drinks. Not to forget our partners at Pussers Rum who rounded off the lunch with a tot of rum for each veteran.
Thursday, 11 April
It was an action-packed second day for the WWII Veterans….
The day commenced with a visit to Southwick House, the former D-Day headquarters, for a VIP tour of the map room and basement.
For former switchboard operator Marie Scott, the trip brought back distinct memories of her time based in the tunnels at Fort Southwick. The 92-year-old worked as a telephone operator, aged just 17, transmitting messages between supreme commanders and troops on the beaches on D-Day. She was interviewed by ITV Meridian, Wave 105 Radio and Forces News whilst at Southwick House. Marie was recently awarded with the Legion D'Honneur - the highest French order of merit for military veterans.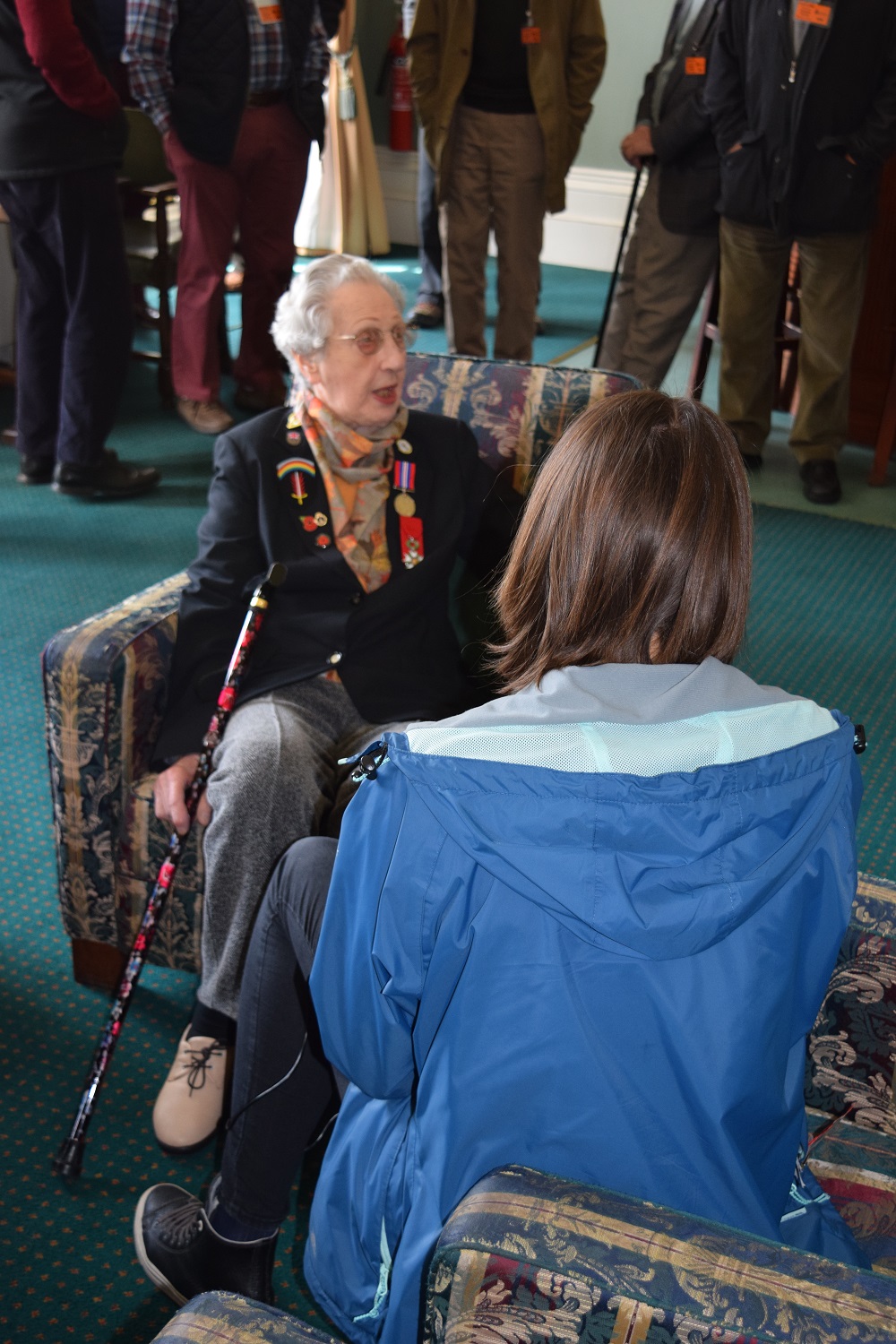 Next stop, was lunch at The Churchillian based on Portsdown Hill. The veterans enjoyed the views of the city whilst tucking into their meals. In the afternoon, the guests went up the Spinnaker Tower to enjoy a Cream Tea in The Clouds. Joining them was the Deputy Lord Mayor and Lady Mayoress of Portsmouth.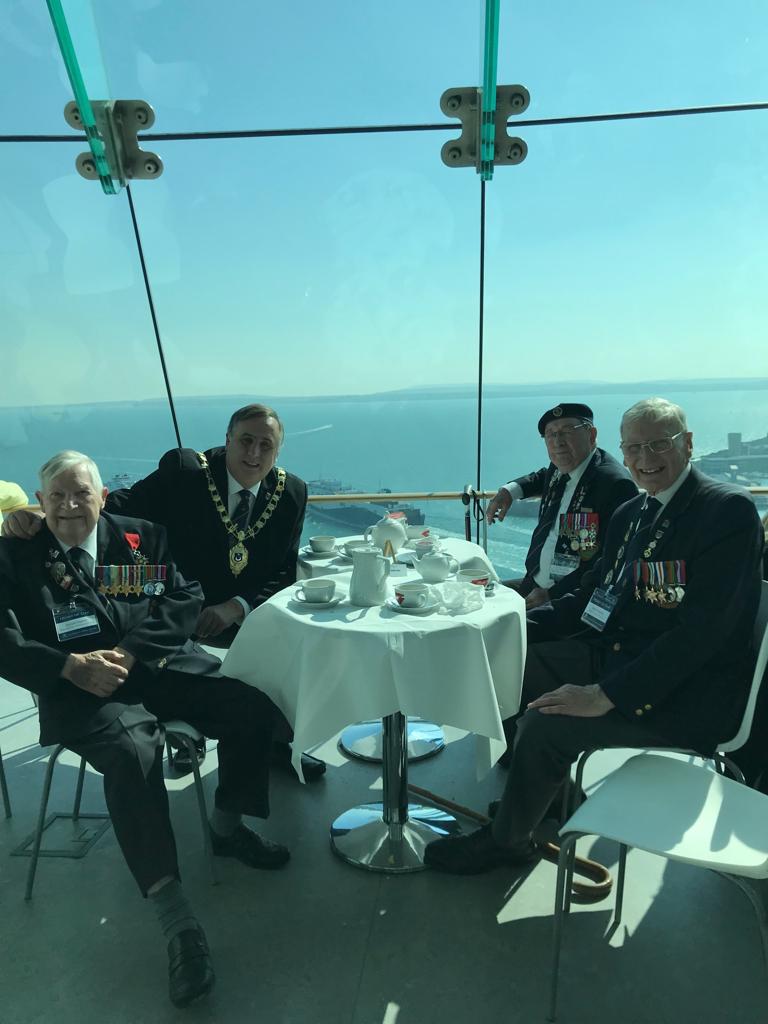 The evening was spent enjoying a gala dinner in the Nelson Lounge of the Royal Maritime Club. Some of the veterans even put on a performance with some classic sing-along songs. 
Thank you to the staff at Southwick House and The Churchillian who were all extremely welcoming. Many thanks to the team at the Spinnaker Tower who kindly gave complimentary entry and cream teas.
Friday, 12 April
An unexpected change in the itinerary led to us working with our long-term partners BAE Systems, and Lucketts Coach Hire for an unforgettable last day in Portsmouth…
It was up and out early for our veterans as they started the day with a VIP tour of HMNB Portsmouth. Thanks to Lucketts who provided transport in style with Portsmouth FC's official coach.
As part of the visit, they met with apprentices from BAE Systems Maritime who enjoyed swapping stories with the D-Day Veterans. One veteran noted how much the naval base had changed: "It's changed so much since I was based here over 70 years ago. There was nothing – there used to be lots of different huts that we'd do our training in."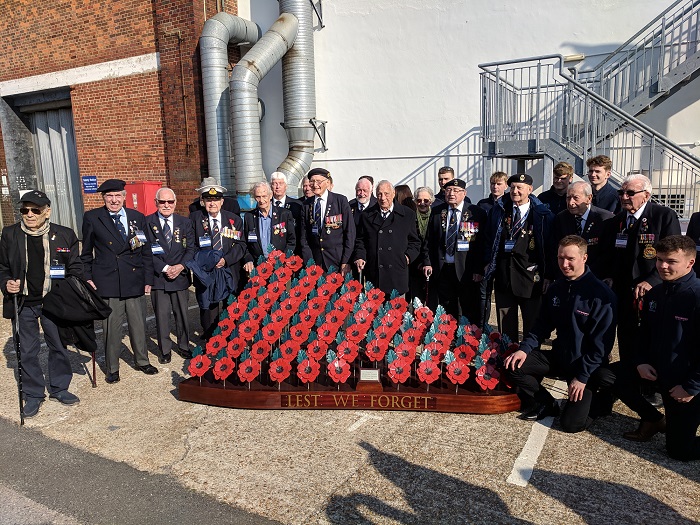 Following this, the guests were given exclusive priority seating to welcome home HMS Dragon after her record-breaking drug-seizing deployment.
The veterans waved, cheered and raised a tot upon her return! They also had the chance to mingle with many of the serving sailors, family and friends. It was an emotional event which brought back many memories for the navy veterans.
One said: "I've really enjoyed watching the homecoming. We never had anything like this in our day. You would be away for two years with no contact with your loved ones at home. Then you'd get back, no one would be waiting for you and you'd go straight home." 
A big thank you to our partners at BAE Systems for helping to such a wonderful last day.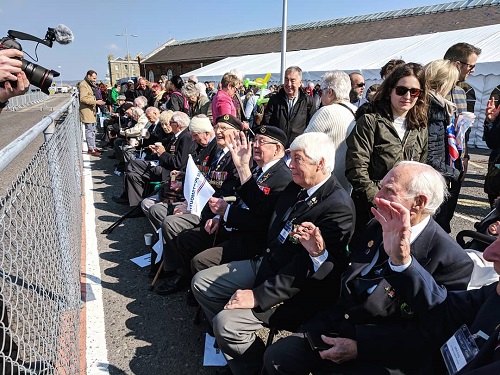 Thank you so much to everyone who helped make the veteran's trip a success. A special thank you to the team at Taxi Charity for working closely with us to help facilitate such a fantastic visit!