The Royal Navy and Royal Marines Charity, in partnership with Greenwich Hospital, have recently awarded Combat Stress a new grant of £90,000. 
This grant will help fund the core treatment that Combat Stress provide to Royal Navy and Royal Marines veterans who are struggling with their mental health. 
In 2018, this treatment helped Dave, a former submariner, who found himself battling panic attacks, nightmares and flashbacks following a serious incident while deployed on HMS Sceptre. This eventually forced him to leave the Navy.
"After leaving I felt angry and frustrated, because in my mind I'd failed. I also felt incomplete – leaving the Navy was like losing a family, a part of myself."
However, his mental health struggles continued in civilian life.
"I thought I was keeping everything well-hidden because I could hold down a job. I still had nightmares and flashbacks, but I convinced myself they were normal. I was a very angry, irritable person."
Eventually pressures at work took their toll on Dave's mental health.
"I spent four months lying on the couch, not able to do anything. I isolated myself from everyone and I became agoraphobic. I was caught in a cycle of guilt and shame, telling myself I had no right to feel the way I did because I hadn't seen action or lost a limb."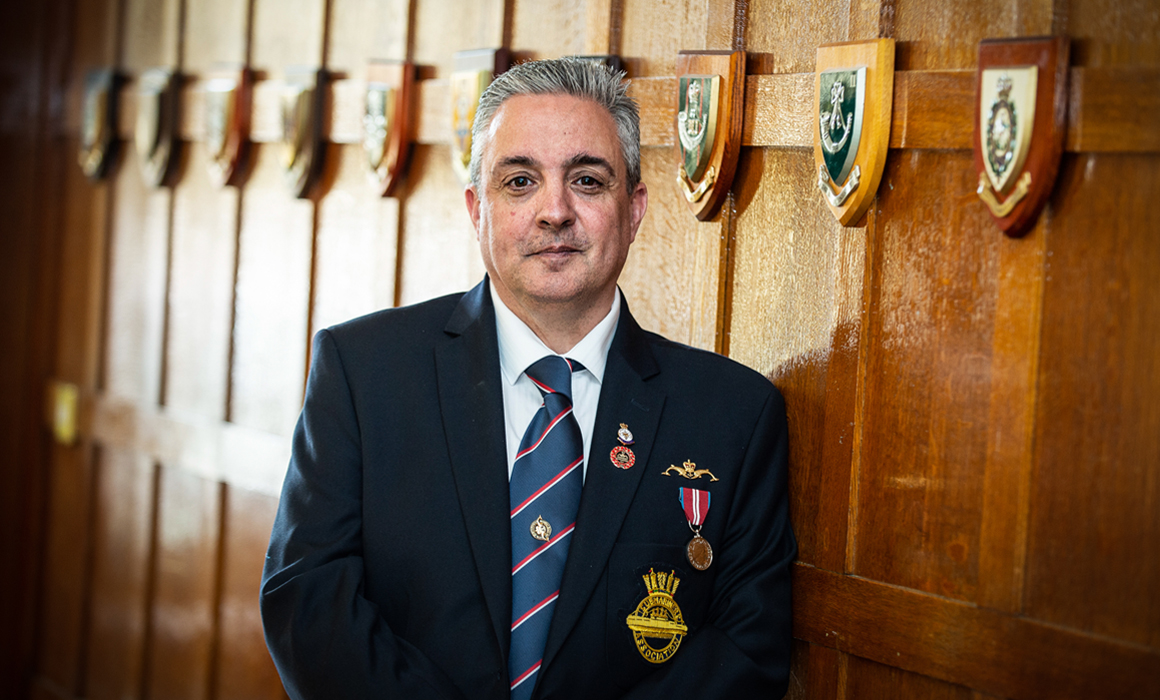 Dave eventually visited his GP, who diagnosed him with post-traumatic stress disorder (PTSD) and referred him to Combat Stress.
"It wasn't until I spoke to the clinical staff at Combat Stress that I realised how broken I was. Talking about what I'd been through for the first time felt like a giant weight had been lifted. I realised that what I'd been feeling wasn't my fault."
After finishing the treatment, Dave started going to his local Combat Stress Peer Support groups, where he could speak with other veterans who'd been through similar experiences.
"Combat Stress put me back together. I've got to know a great bunch of lads through the Peer Support groups and I'm so happy I can give something back."
Robert Marsh, Director Income Generation at Combat Stress said:
"We're so grateful to The Royal Navy and Royal Marines Charity and Greenwich Hospital for this grant, which will help us provide vital support to Royal Navy and Royal Marines veterans."
"It's important that we raise awareness and funds for the charity to ensure we can continue to support every veteran that needs our help. We'd like to thank The Royal Navy and Royal Marines Charity and Greenwich Hospital for supporting Combat Stress and veterans with mental health problems."
Speaking on behalf of the RNRMC, Mandy Lindley, Director of Relationships and Funding, commented:
"We are pleased to award this grant of £90,000 to Combat Stress. The mental health support that they offer to the armed forces community has a huge impact.
"The RNRMC aims to identify need amongst our sailors, marines, veterans and their families. By working closely with Combat Stress, we are able to better understand the demand for mental health provision amongst ex-naval personnel and react to it. We hope that this grant will make a real difference to the lives of the men and women who have served in the Royal Navy and Royal Marines."
If you would like to find out more about Combat Stress or how to access their support, please visit their website, or call their 24 hour helpline on 0800 138 1619.