A very special dinner took place on 24th October in the Painted Hall at the Old Royal Naval College, Greenwich to commemorate the victory of the Battle of Trafalgar and the death of Lord Nelson, hosted by the Royal Navy and Royal Marines Charity (RNRMC) and the White Ensign Association (WEA) and attended by Patron of the RNRMC, Her Royal Highness The Princess Royal, with the BBC Security Correspondent and author, Frank Gardner, giving the immortal memory toast.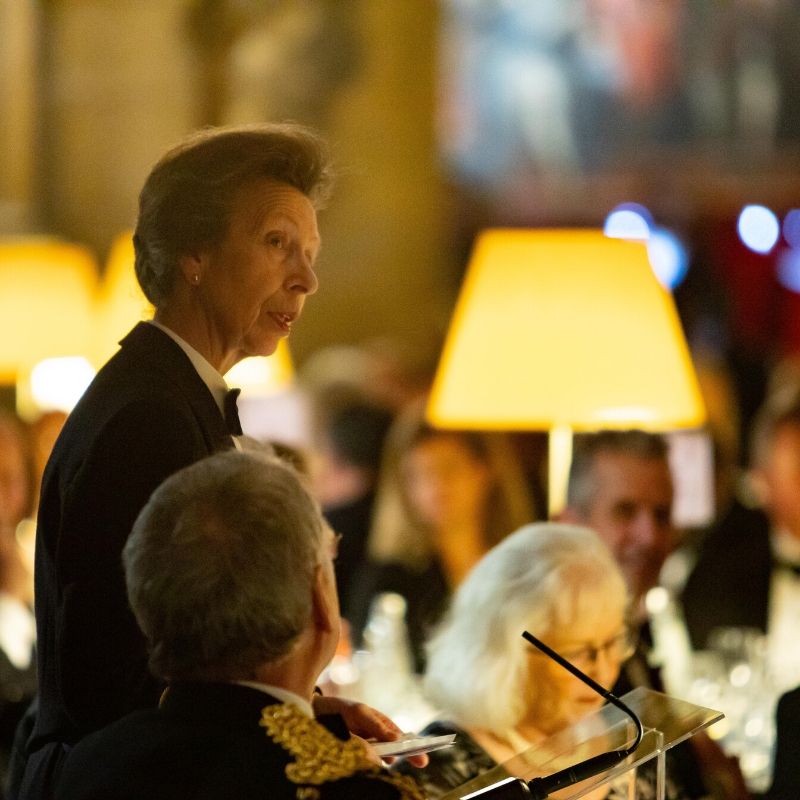 This annual commemorative event is a grand affair which included the Naval traditions of 'Parading of the Beef' and chocolate 'Ships of the Line' as well as witnessing mess beatings by the Corps of Drums from the Royal Marine Band Service and the singing of sea shanties.  The dinner brought together over 330 people, made up of supporters, local Greenwich residents, industry partners friends and supporters of the two charities and members of the Royal Navy, to recognise the the work that the Royal Navy and Royal Marines do in our names today and have done over the years.
The global footprint and demanding operational tempo of today's Royal Navy is matched by that of the reach and help provided by both the Royal Navy and Royal Marines Charity and The White Ensign Association. 
One guest said: 
"It was an absolutely fantastic event and one which will stay with me for a long time to come.  I feel very privileged to have been able to attend" 
Adrian Bell, Chief Executive of the RNRMC, said:   
 "We are proud to have co-hosted our inaugural Trafalgar Night Dinner with The White Ensign Association in the newly restored and iconic Painted Hall. 
"Horatio Nelson was a national hero and Trafalgar a most Britannic victory, both of which hold universal appeal to this day and 214 years on this story still resonate with serving personnel, veterans, their families and the wider public. 
"The Royal Navy today, and even more so the Royal Navy of the future, has an enormous national and global role to play and we are honoured to be able to support our naval communities alongside the White Ensign Association." 
Captain John Lavery, Chief Executive of the WEA, said:   
"The Trafalgar Night Dinner was wonderful opportunity to highlight our work and the support it provides to the naval community alongside the Royal Navy's strategic charity on the most important day in the naval calendar in one of maritime Britain's most iconic venues" 
Melanie Coles, Head of Communications at Lockheed Martin (event sponsors), said:   
"At Lockheed Martin, we never forget who we're working for, nor do we forget those that have made the ultimate sacrifice in conflict.  Our commitment to the Royal Navy and Royal Marines charity (RNRMC) helps to maintain much needed support to sailors, marines and their families throughout their lives, and at the times they need it the most.   
During the Trafalgar Night Dinner in London, we were reminded of the bravery of Admiral Lord Nelson and all of those who put their lives on the line to keep us safe, not just in 1805 but throughout history and up to the present day."