20/05/2021 RNRMC Activity Camps UPDATE (excluding HMS SULTAN and HMS COLLINGWOOD)
Just a reminder for those families who registered an interest in attending one of our camps you should have by now received an email and telephone call from Kings Camps to book your place.  To guarantee a place at your chosen camp you must have responded to this communication by 31st May 2021.  After this date places will be released to other families to book.  If in doubt please phone Kings Foundation Booking Line on : 0114 2632160.

Get your children active, having fun and learning together!
The Royal Navy and Royal Marines Charity (RNRMC) are very pleased to announce the return of Activity Camps this summer!  The RNRMC are once again working in partnership with The Kings Active Foundation and the Royal Navy to provide leading sports and activity camps to Naval families with children between 5 – 17 years old at a heavily subsidised cost.
Camps provide fantastic opportunities for children and young people to get active, have fun and make new friends. They will be coming to a host of Royal Navy Establishments this summer, operating full week Activity Camps on selected dates. RNRMC are again subsidising places so that Camps on Royal Navy bases will cost just £75 per child, per week and are exclusively for Naval families. Access to the RN bases makes a big difference to the cost, so thank you to the Royal Navy for opening up facilities. Royal Navy establishment locations and dates are still being finalised and not confirmed. Information about the provisional locations and dates are available on the survey (link below) to support planning.  
An ever-popular offer, very high demand is expected for Royal Navy Establishment based camps this summer. To plan and prepare for this demand; an Expression of Interest form has been created to allow all Naval families to register their interest in their preferred location and dates. This will enable demand to be met as much as possible. Register Your Interest for Kings Camps - Summer 2021 Survey (surveymonkey.co.uk)
Please complete the Expression of Interest Form by 30th April 2021. Kings Camps will be in touch with you from 14th May to confirm if you have been successful in securing a place on a Royal Navy Establishment camp. Please note, completing this online form, does not guarantee you a place on camp.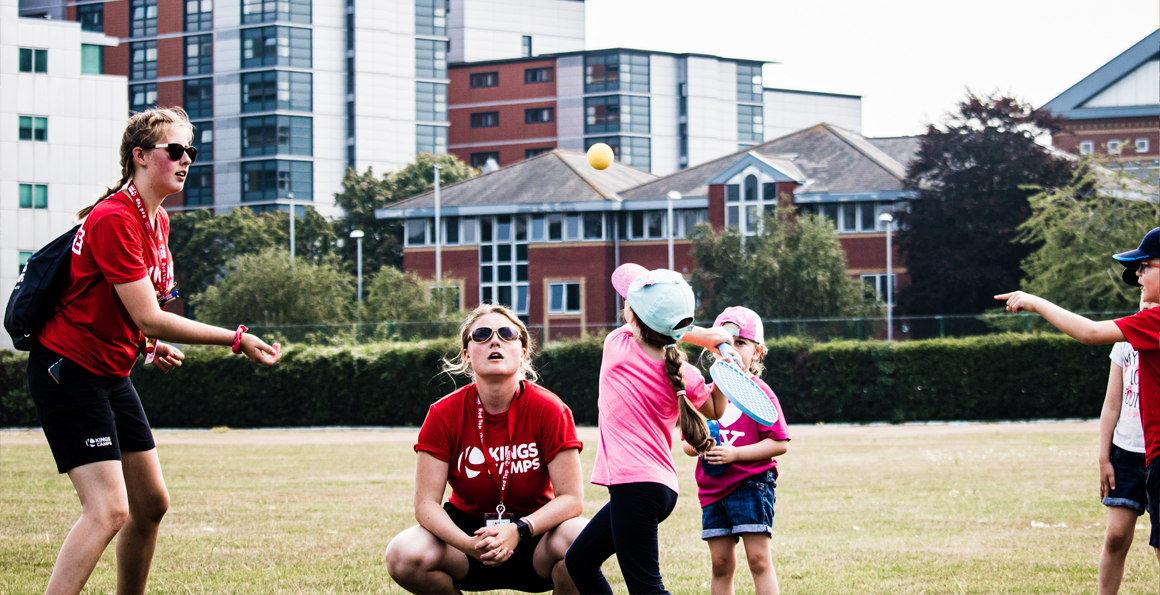 Kings Camps also operate civilian camps nationwide in England, Scotland and Wales, so if you don't live near to a Royal Navy Establishment you may be able to access a civilian Kings Camps. All serving RN families can benefit from the same subsidised cost as a camp hosted at a Royal Navy Establishment of £75 per child, per week. You can view a full list of locations here. To book places at any Kings Camps around the UK, which are open to the general public, please call the Kings Camps membership team on 0114 263 2160 (Monday – Friday 9am – 5pm) to discuss dates and locations and ensure you receive the subsidised rate.
From the age of 15 children can also attend an RN Activity Camp and participate in the Rookie Academy which is a Level 3 is accredited by 1stForSport leadership programme that helps young people to get more out of their school holidays. This qualification can be added to their CV and included in any future application where part of the assessment is on practical leadership skills. Rookies are celebrated on their camp with a graduation which is a fantastic way to inspire the younger children. Find out more about the Rookie Programme here.
Parent feedback from last year:
"Amazing, safe venue for kids! Great staff who engaged kids from the outset. This is the only camp my kids actually enjoy! They are kept on the go from drop off to pick up and love every minute of it. It's well organised, the activities are structured, and the atmosphere is always fun. The chants on the way home in the car are probably the only downside but after a while, even I joined in!!"
"My daughter absolutely loved it. I picked her up every night and she is so excited to tell me all about the new sports she has played, what she has done and the new friends she had made. I was a bit worried that with the ongoing Covid19 situation it wouldn't be as good as previous years, but as mentioned, it was fantastic."