Talented Invictus Games athlete, Lieutenant Commander Emma McCormick, has won gold in a dramatic shot put victory for team GB in Sydney.
Emma, who serves at Navy Command on HMS Excellent in Portsmouth, unexpectedly walked away with the top spot following a colossal 8m 41cm throw.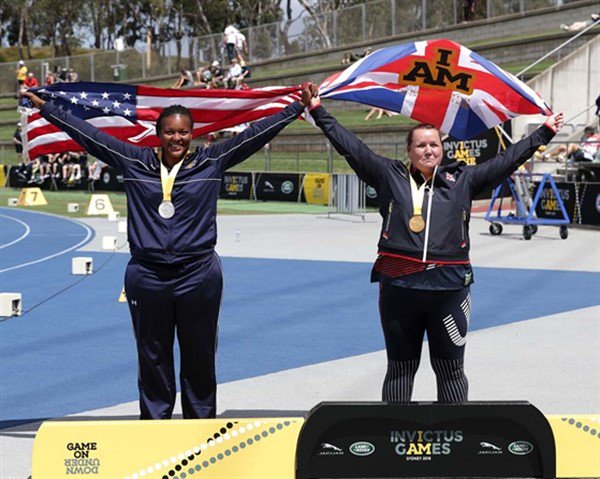 Having only trained at the shot put for just 14 weeks, Lt Commander McCormick was able to hurl the 4kg weight further than defending former champion and favourite, USA's Stephanie Johnson. Emma is the only serving member of the Royal Navy in the team GB Invictus Games squad.
Speaking on the Royal Navy's website, Emma said:
"It was a small shock beating a wonderful US champion and Italian Paralympian, both of whom were great competitors."
"I love how strong I'm feeling physically and mentally - Invictus is working for me!" 
Created in 2014, the Invictus Games was created by HRH The Duke of Sussex after a trip to the USA to watch the Warrior Games. It uses the power of sport to inspire recovery, support rehabilitation and generates a wider understanding and respect for wounded, injured and sick Servicemen and women.
Heroic Invictus champion, former Royal Marine, Mark Ormrod has already bagged several gold medals at this year's games in Sydney. Ormerod was made a triple amputee after stepping on an Improvised Explosive Device (IED) in Afghanistan.
Lieutenant Commander McCormick is still to compete in the Final of the Women's IF1 Discus. As the Royal Navy's charity, the Royal Navy and Royal Marines Charity wish Lieutenant Commander McCormick RN and all the competitors at the Invictus Games the best of luck.
The RNRMC provide consistent and unwavering support during times of need, offering a safety net for all those who find themselves in difficulty. Offering counselling services, support through injury, illness or bereavement, the RNRMC is committed to creating a world in which serving men and women, families and veterans are recognised for their service and the sacrifice they have made.
For more info on the RNRMC, visit www.rnrmc.org.uk or call 023 9387 1540.