The Royal Navy and Royal Marines Charity, and its supporting partner Greenwich Hospital, has provided a grant of £50,000 to Erskine. This grant will support Erskine's sector-leading care at The Erskine Home, Bishopton for Royal Navy and Royal Marines beneficiaries.
Erskine delivers expert care and support to elderly Navy and Marines Veterans and their spouses. Despite the ongoing difficulties of the pandemic, the residents are still enjoying the highest possible quality of life together. This is achieved through Erskine's wide range of on-site enhanced care services including physiotherapy, speech and language therapy, a weekly Lunch Club and their daily activities programme. 
Erskine cares for many Navy and Marines Veterans including Craig McDermott, a Royal Navy gunner who served in the Falklands on board the HMS Antrim at just 17 years old. Following an illness, Craig is now at Erskine benefitting from the expert support of their dedicated staff.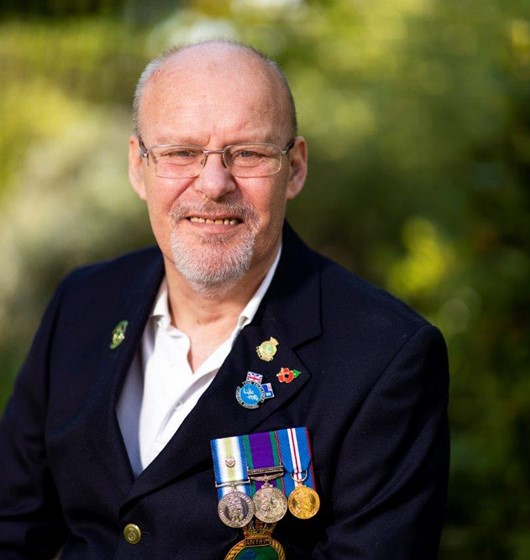 The work that Erskine does for so many Veterans cannot be underestimated. Without Erskine, I don't know where I'd be now. It has done so much for me. It has provided me with a lifeline.
Erskine's enhanced care services are funded by voluntary income and are only made possible thanks to grants from generous supporters including the RNRMC and Greenwich Hospital. 
Erskine's Chief Executive, Ian Cumming: "I would like to sincerely thank the Royal Navy and Royal Marines Charity and Greenwich Hospital for their latest outstanding grant. It continues to be a challenging time for Erskine as we adapt our services and deal with the massive impact of the pandemic for our charity and the Veterans we support. Our team at The Erskine Home, Bishopton has dug deep into physical and emotional reserves to keep delivering the best possible standard of care to our residents and help them benefit from a superb quality of life. Erskine is incredibly proud to care for Scotland's brave Navy and Marines Veterans and we will continue to do so with the regular generosity of supporters like the RNRMC and Greenwich Hospital."
The RNRMC's Director of Relationships and Funding, Mandy Lindley: "The Royal Navy and Royal Marines Charity and Erskine have worked together for many years to support the Royal Navy's veteran community in Scotland. We understand how important quality care is for our elderly veterans and Erskine are a crucial provider in this area. Promoting independence and protecting dignity for older veterans is a key priority for the RNRMC and we are very pleased to continue our close partnership with Erskine."