Plymouth Argyle players Antoni Sarcevic, and Niall Canavan helped kick off HMS Raleigh's recent 12-hour five-a-side tournament, to raise money for the Royal Navy and Royal Marines Charity.
The day consisted of 12, intense 55-minute matches for the Raleigh squad of seven Physical Training Instructors (PTIs) with all teams taking part paying a £50 entry fee. Competing were Service and civilian teams that included HMS Drake, Stagecoach and Babcock. Despite playing until 10 pm, Raleigh's PTIs remained victorious, winning 10 out of 12 games.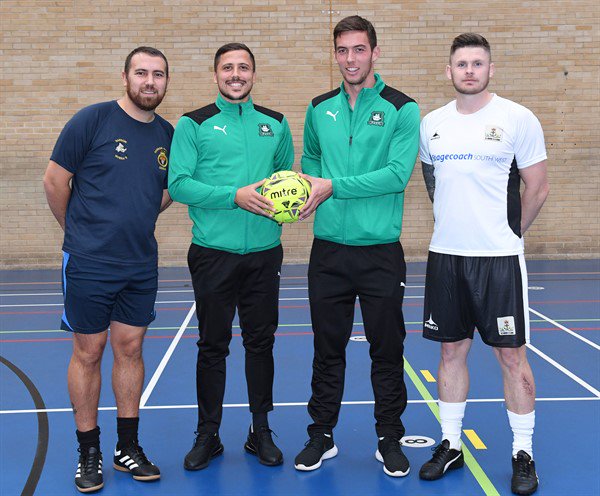 The tournament kicked off at 10 am and after 12 hours and over 200 goals later the final whistle was blown. The event raised a total of £1200.
Event organiser (and top scorer of the day) Leading Physical Trainer Damon Bell said:
"The day went really well with both civilian and military teams enjoying the event. Everyone that took part mentioned how much they loved the opportunity to challenge the PT Staff, especially our own phase 2 recruits."
Chief Petty Officer Craig Taylor was a member of The Royal Navy Submarine School (RNSMS) team who challenged the PTIs. He said:
"We picked the 1700 time slot, in the hope of the PTI team being tired This was not the case. They were still full of energy, tackles and great teamwork. Playing regularly against the PTIs, I could see by the team fielded there were no weak players."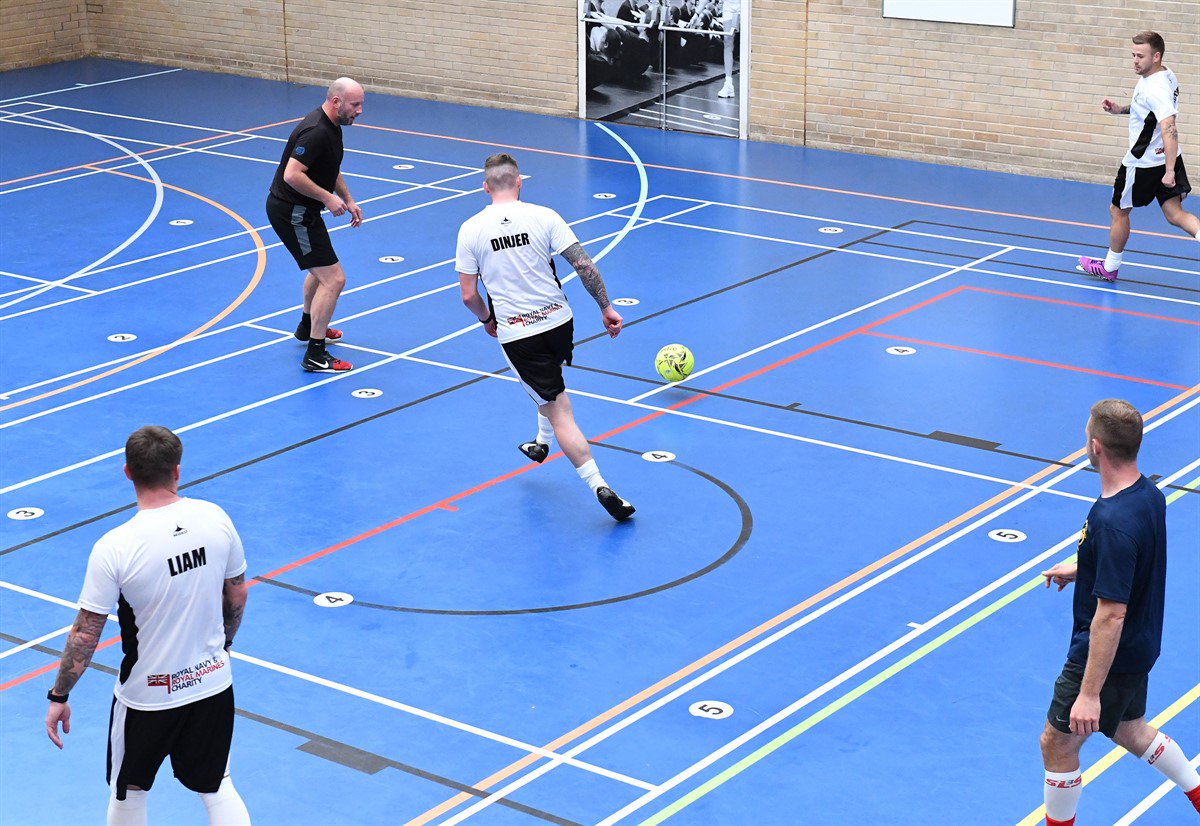 Green Army's midfielder Antoni and defender Niall, chanted from the sidelines, whilst offering advice to the PTI's of easing themselves into the games.
Tim Corke, South West Fundraising Manager from the Royal Navy and Royal Marines Charity, was also there to watch and support the tournament, adding:
"The dedication and enthusiasm shown by everyone involved with this RNRMC fundraising challenge has been fantastic – the players, the sponsors and the supporters but of course special thanks go to the Raleigh PTI team and LPT Bell especially, for setting up this remarkable fundraising challenge."
Stagecoach sponsored the event, providing kits and energy drinks for the duration. Other sponsors included MyZone and Fuel Catering who provided heart rate monitoring and food.