The last we heard from Victory Walker Jane Allen, she was continuing to make good progress along Pembrokeshire's coast path on her round-Britain marathon walking challenge as she raises money for two naval charities.
Jane was taking on one of the more scenic stretches of her 5,500-mile walk along undulating cliffs, passing sandy coves and huge beaches popular with surfers when disaster struck. 
Jane explains, first hand, the ordeal:
"Walking my waterside route, it struck me as odd that this prominent refinery is such a feature in Pembrokeshire's National Park.  The next thing to strike was a small rock hidden in the grass; in a split second I tripped and was thrown downhill where I lay screaming with pain.   I knew my right arm and shoulder was in serious trouble. 
My first concern was to see if the curious bullocks were going to venture closer, but my yells killed their curiosity!  My second thought was to get to my feet, but sensing how sick I felt, I realised I'd have to take my time.  Thirdly, with no phone signal, I knew it was up to me to get back through the fields and summon help from oil refinery staff somewhere inside the perimeter fence.  It was pure mental grit and adrenaline that saw me drag myself back up the hill - it seemed to take forever.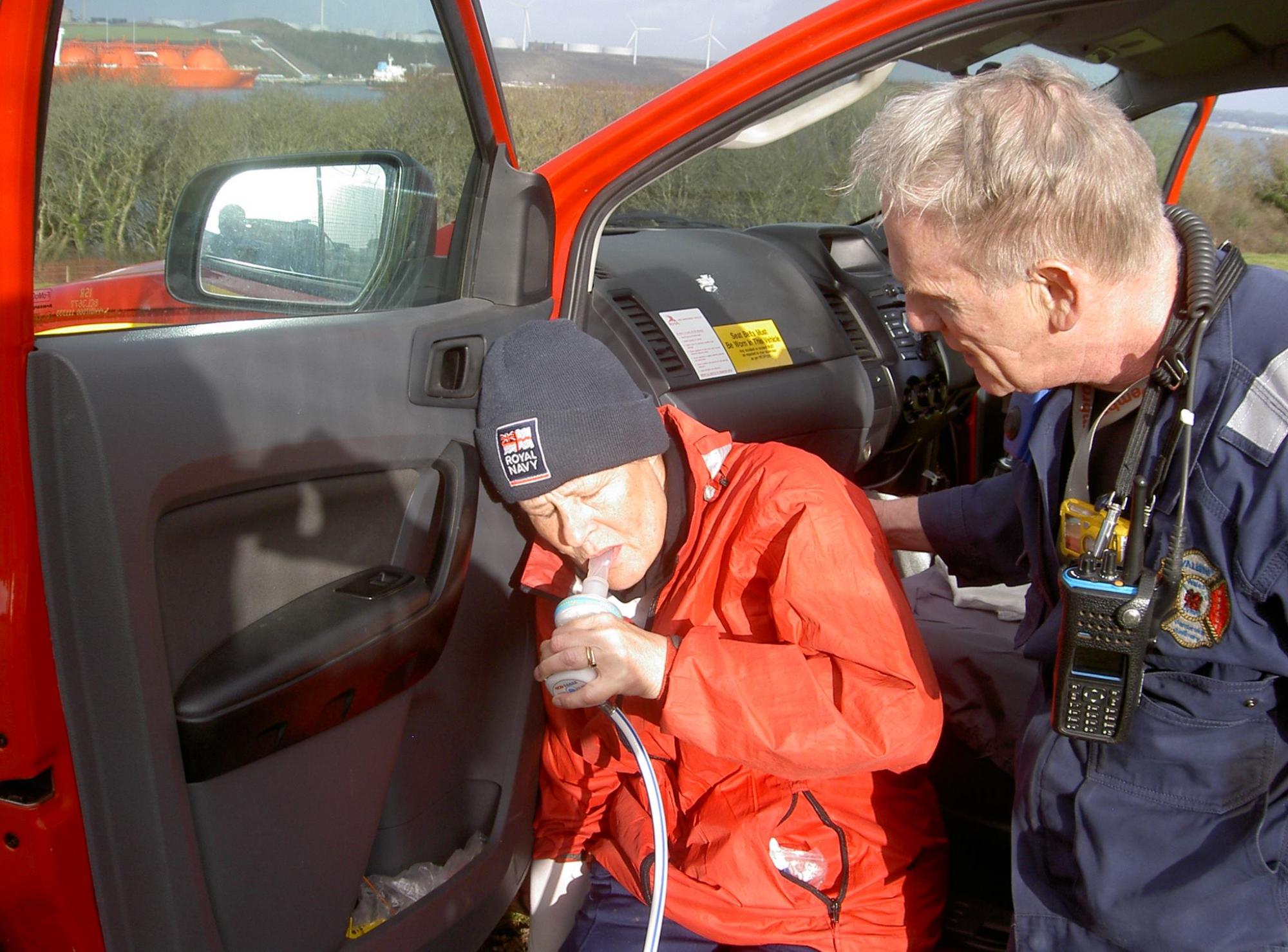 A combination of oil refinery staff – the first response team and the refinery's ambulance - managed to help me in that first excruciatingly painful hour.  Later, having been transferred into a county ambulance I was stabilised before being taken to the A & E department of Haverfordwest hospital. 
In all, seven hazy and very painful hours passed by with the A & E team trying to solve the problem. Unable to take any more pain, I was eventually admitted to theatre under general anesthetic.  Once there, my severely dislocated and chipped right shoulder was manipulated back into position.  Exhausted I was kept in overnight while Frank slept in the hospital car park in the Victory Van.
We both knew it could have been worse, but I also knew the Victory Walk was now 'on hold'.  My shoulder and chipped shoulder bone needs time to mesh together, after which the damaged soft tissues need to heal before physio can start. My entire right arm is as yellow as saffron rice and as purple as damson plums. Incredibly, there's not a scratch, cut or bruise anywhere else on my body.
Having been told my arm must stay immobile for 3 weeks it was clear that living in the Van would not be practical.  For the next four days, I remained in shock and continuing pain.  During this time all our efforts were concentrated on finding a suitable holiday let which could also provide parking for the Victory Van.  Ironically the waterside apartment we finally found looks directly across Milford Haven waterway towards the Valero refinery and surrounding fields - the very scene of my accident.  There's nothing quite like rubbing salt into a wound! 
I've since had another X-ray which confirms shoulder and chipped bone were successfully married-up.  Healing time has begun: my main challenge now is remaining patient and not becoming an impatient patient!"
Jane's unwavering level of commitment and determination to complete this challenge has been inspirational throughout her Victory Walk challenge.
Everyone at the RNRMC wishes Jane all the very best on her road to recovery as we prepare to welcome her back into Portsmouth later in 2019.