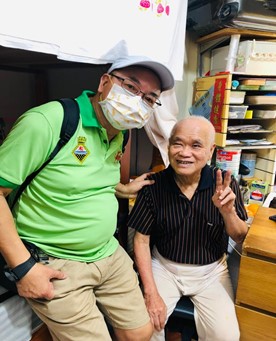 The Hong Kong LEP Trust is a UK-based charity comprising of three ex-officio trustees. The Trust has an executive committee in Hong Kong, comprising RN and HKMSC LEP veterans, plus expatriate former RN and Army officers.
This committee oversees the support of the LEPs, directs the work of the Veterans' Outreach Officer (VOO), adjudicates on welfare and benevolence cases and manages fraternal support and communications. The Trust provides welfare and benevolence support to the LEP veterans in Hong Kong; as the average age increases there is much less need for education and vocational training, but more emphasis on welfare/benevolence. The Trust has been supported by RNRMC since 2016. 
This year, RNRMC's funding helped improve an elderly veteran's quality of life through supporting the important work of the Veterans' Outreach Officer (VOO) employed by the Hong Kong LEP Trust. 
PO Lee Wah Ban was born in Hong Kong in 1936 and enlisted in the Royal Navy at HMS Tamar in the early 1950s. He trained as an Electrical Mechanic and served both ashore in Hong Kong, and at sea. In 2020, after over half a century as a veteran, Mr. Lee, now 85, came to the notice of the Hong Kong Ex-Servicemen's Association (HKESA).  
A former RN member of the committee visits him monthly at home to ascertain his welfare needs, and as a direct result of the home visit programme, Mr. Lee is being given HK$20,871 per year (about £2,000) to help pay his medical bills and the Association has also provided him with a brand new air-conditioning unit for his apartment. 
Mr. Lee was also invited to the LEP Clubhouse in Hong Kong to meet with CPO William Ching and CPO Chan – both of whom are significant in the Hong Kong LEP veterans community.
We are most grateful for the ongoing support of the RNRMC, enabling us to help individuals like Mr. Lee
R.J. Bacon, Chairman of The Hong Kong LEP Trust