Getting around is an essential part of life, however for some naval veterans, transportation options are limited and extra support is needed. Thankfully, the RNRMC works with partner charities to help resolve these issues, but organisations such as the Taxi Charity for Military Veterans and Fares 4 Free often become a lifeline for vulnerable individuals, providing far more than simply travel from A to B. 
Last year, the RNRMC's partnership with the Taxi Charity helped brig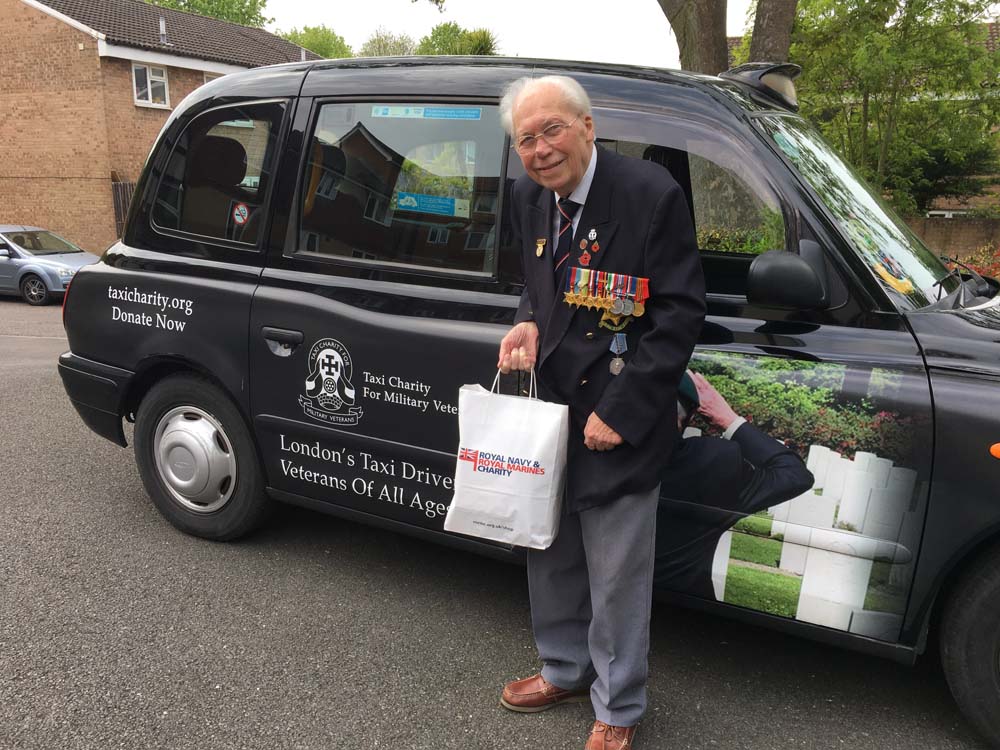 hten up veterans' days by delivering RNRMC goodie bags to their doorsteps. The goodie bags were personally distributed by Taxi Charity volunteers, including Taxi Chairty chairman Ian Parsons. This gesture acted as a kind reminder that both charities were thinking of our veterans in difficult times such as the Covid-19 pandemic. 
Recently, the Taxi Charity took two WWII Royal Navy Veterans to the Defence Medical Rehabilitation Centre (DMRC) Benevolent Fund Dinner on board of HMS Victory. The Taxi Charity picked up the two veterans from their homes in Hornchurch and Guildford and drove them to a Portsmouth hotel where they enjoyed a tot of rum before heading to the historic dockyard, where special security arrangements had been made for the London black cab to pull up alongside Nelson's flagship, HMS Victory. 
In Scotland, Fares4Free offer free taxi transportation to Royal Navy veterans thanks in part to RNRMC funding, along with a network of volunteer drivers. Fares4Free founder, David Gibson, knows how valuable this service is in helping combat loneliness and isolation, and this was recently exemplified by the organisation's work with a Royal Navy veteran who suffers from PTSD and agrophobia, 
"This veteran has been known to Fares4Free for over three years", said David.  
"Fares4Free took her to a veterans' events and to a peer support group on a couple of occasions. We also took her to visit her parents, over 50 miles away, her father has terminal cancer and her mother at this point had a recent dementia diagnosis. This journey would have been impossible via public transport – her anxiety was off the scale. 
"We then spoke to her about Rock 2 Recovery, we explained that there could be a flexible approach to appointment regimes and that it would be possible for them to work by video call with her and if required with her teenage son, who had complicated physical and mental health issues. She began appointments during the pandemic and was able to attend face to face in a safe environment. This was an hour from home and although very anxious on the first day, results were almost immediate. Fares4Free combined these two hour long appointments with walks, coffees, lunches etc. We involved Stanley (our coordinators dog) who proved to be the key ingredient!"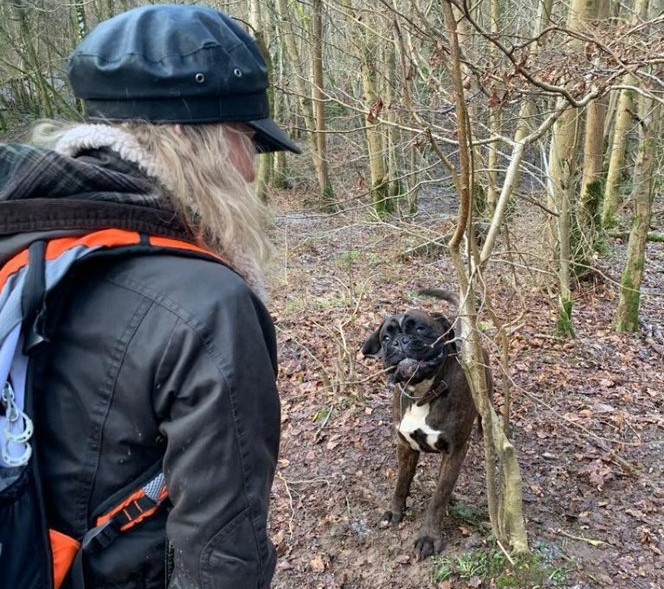 The veteran (who wishes to remain anonymous) said: 
"Life Transforming. What a journey. So much kindness. Until I was introduced to Fares4Free I was very anxious before appointments and had become extremely isolated. Then WOW my first cuddle with Stanley (beautiful Boxer Dog with a cute face) and immediately I knew that everything was going to be completely safe. 
"David Gibson and all the supporting charities accommodate the flexibility needed to facilitate access and interact with these wonderful therapeutic services and most importantly without the guilt associated regarding cancellation of appointments. 
I was dumbfounded to learn the Royal Navy and Royal Marines Charity have been funding my trips and the Fares4Free part of my recovery journey. I hope they are so proud of your work and please please thank them from the bottom of my heart.