Over the years the Royal Navy and Royal Marines Charity (RNRMC) has supported Wounded Injured and Sick Service Personnel (WIS SP), with grants to Hasler Naval Service Recovery Centre (NSRC) to aid recovery. In September this year an RNRMC grant funded a week at Pentillie Estate, Cornwall, allowing Hasler assigned ranks a respite break to aid recovery. The RNRMC were heartened and grateful to recently receive a donation from RNRC Hasler following a fundraising challenge organised by the recovery team. In the article below, Cpl Gaz Spacey explains how the challenge originated and what it involved. 
Whilst sat watching BBC Spotlight (South West local news) the week prior to Remembrance Day, the news reporter highlighted to me that the familiar scene of the old boy shaking his tin down Tesco would not be the case this year. Because of this, the RBL and other service charities would take a huge hit on public donations.
The next day the RNRC Hasler planning team came up with the concept of a virtual fund-raising challenge to get the WIS SP (Wounded Injured and Sick Service Personnel) that are being treated at distance interacting with each other again. Thus, what we hope to be an annual event " The Hasler Remembrance Day Challenge" was born.
The idea was to get as many of the WIS SP involved as possible with a physical challenge that was easily tailored to a wide variety of injuries and illnesses and could be done in a socially distanced and safe manner. We set up a Virgin Money giving page that meant if you wanted to take part, you had to pay a buy in donation. Money raised would be split equally between the Royal British Legion and the Royal Navy and Royal Marines Charity. For some, this gave them the incentive needed to go against each other, as these charities have done a lot for the Hasler ranks over the years. For others, they were just up for the challenge no matter what!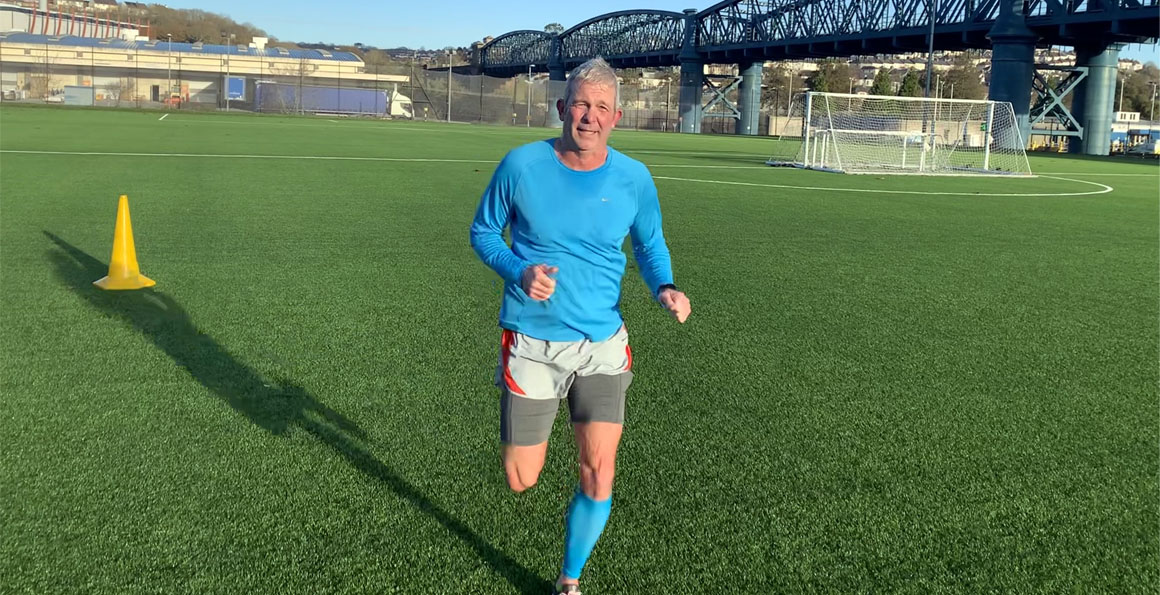 The layout of the challenge was to walk, jog, run, swim or cycle as far as they could over the period of one week and log it with their smart watches and phones on the Strava club we'd set up for the event. To maximize funds raised (and so that nobody felt left out) we had a WIS SP Challenge and a Hasler staff challenge.
There would be an overall winner - the person who spent the most time exercising, this was to allow those that could only walk and not cover as big a distance as say the cyclists, a chance to win. There was also an overall distance running winner, an overall distance swimming winner and an overall distance cycling winner.
The week got off to a competitive start and the miles were soon racking up. This did however mean that we had to bear witness to what was Sgt Paul Rickard in his atrocious Phys rig! Hats off to him, nearing a half century in age, he managed a half marathon for 5 consecutive days! But that's nothing, he's completed an ironman don't you know? If you don't, you must be the only person he hasn't told!
Having the Endeavour gym swimming pool on Tuesday for one hour, we tried to make the most of it. An impressive swim by CSgt Charlie Charles had him out front on the swimming challenge, swimming 1.5 miles in the hour! With no more time in the pool I tried to catch up with Cpl Lloyd- Taberer on the staff swimming challenge and went for a dip in the sea. I overtook him, but he pipped me at the post later in the week.
Whilst this was all on going, we had the wood workers and the metal smiths in HMS Drake dockyard kindly putting together a plaque for the winner's name's to be engraved every year. Overall, we had a great time and raised £655 including gift aid. We walked, ran, swam or cycled 1427.79 miles! Which is further than Plymouth to Rome! I'm incredibly proud of all that took part and I hope the challenge continues in future years.
Below are the winners of each category:
WIS SP:
Overall Winner: AB1 James "Jenny" Wren
Cycling winner: Cpl Tim "Dolly" Parton
Running: LT Sandra Olmesdahl
Swimming: CSgt Paul "Charlie" Charles
Staff:
Overall winner: Cpl Gaz Spacey
Cycling winner: Captain Phil Newton
Swimming winner: Cpl Lloyd Taberer
Running Winner: Cpl Gaz Spacey