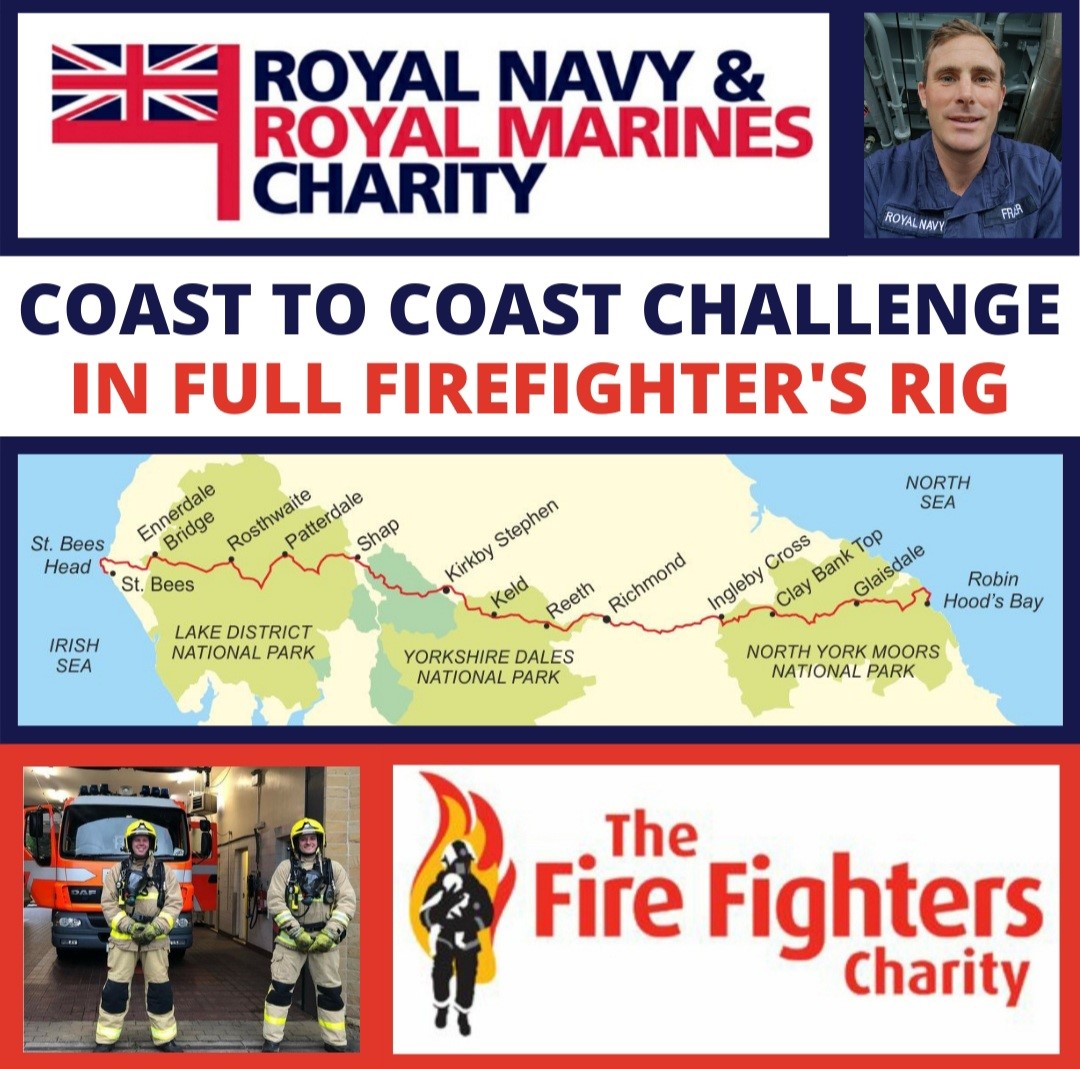 Joey, Duncan, Phil, Penny and Tracey embarked on their incredible journey on 24th May, walking 190 miles from St. Bees in Cumbria to Robin Hood's Bay in Yorkshire to support the RNRMC and the The Fire Fighters Charity!
The walk, following Wainwright's route, is a hike that normally takes 12 days to complete. Our supporters managed to complete Coast to Coast Challenge in just 4 days 13 hours and 55 minutes! To make things even harder, they did so dressed in full fire kit, carrying a breathing apparatus set weighing a total of 30kg.
"We are very aware that 2020 was a difficult year for all Charities and Organisations, and 2021 hasn't started off much better. We are setting ourselves this challenge in hope we can make a little bit of difference for our charities.
We have chosen The Royal Navy & The Royal Marines Charity as we believe they offer life saving support to all past and present personnel and their families. They've helped 876 medically discharged veterans back into work, funding has helped 87 London taxis drive 97 D-Day veterans back to the beaches of Normandy, 170 Christmas Stockings delivered to a submarine for Christmas Day and 804 children had bedtime stories to listen to while a parent was away on deployment."

They have raised the incredible amount of £3,325 so far. 

If you would like to support the cause, you can do so here. 
It's wonderful to see such a remarkable group of sailors and firefighters come together in an epic fundraising endeavour to support the Royal Navy and Royal Marines Charity and Firefighter's Charity. We are constantly surprised and humbled by the lengths supporters go to in order to raise money for us, but hiking from coast to coast across three National Parks in full firefighting kit will take some beating!
Adrian Bell, CEO of RNRMC