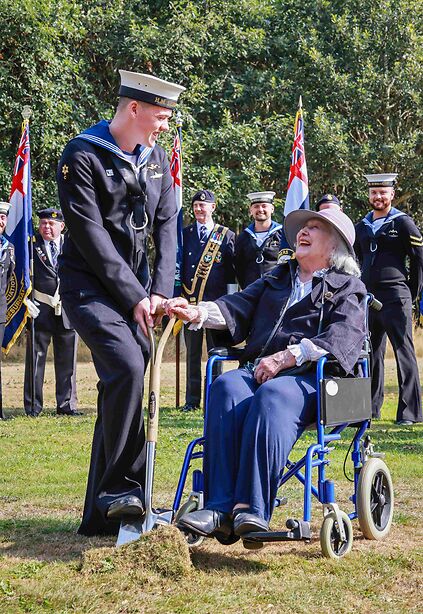 The Submariner Memorial Appeal held the Ground Breaking Ceremony for its new sculpture at the National Memorial Arboretum, in Staffordshire, this morning. 
The turf was cut by 100-year-old Diana Mayes and 25-year-old Jack McHugh, a chef on HMS Vigilant. Diana's first husband Lt Gordon Noll was Commanding Officer of HMS Untamed. He was 25 when he lost his life along with with all his crew in the Clyde in May 1943.
Six standard bearers and Gill Molyneux - widow of Lt Cdr Ian Molyneux – were also present. The speech was given by Deputy Commanding Officer Submarines Captain Irvine Lindsey RN. 
The Submariner Memorial Appeal has raised the majority of its £440,000 target to fund an evocative sculpture by Paul Day, which will finally give the Royal Navy's 5,349 fallen submariners - most of whom have no formal grave - a fitting memorial at the arboretum. 
It is due to be dedicated by The Duke of Cambridge, Commodore-in-Chief Submarines next Spring. 
The Duke of Cambridge said: 
"The National Memorial Arboretum has become the nation's centre for remembrance, a place where everyone can gather to honour those who have made the ultimate sacrifice for our country. 
"It is therefore right that the Submarine Service has a fitting memorial to honour and remember all those who have given their lives in this most demanding branch of our Armed Forces, and acknowledge the sacrifice of their families." 
At last the bravery and fortitude of HMS Untamed's young crew, who faced dangers not of their making, can be recognised. And my heartfelt gratitude to and pride in all submariners.
The Submariner Memorial Appeal, supported by the Royal Navy and Royal Marines Charity (RNRMC), is currently trying to raise over £400,000 to fund and maintain the memorial, which will replace the current small plaque. The memorial will be unveiled next year at the National Memorial Arboretum at a ceremony attended by Prince William, Commodore-in-Chief Submarines. 
For more information visit https://www.submarinermemorial.uk/about/ 
The Submarine Service 
Often known as the 'Silent Service' the Royal Navy has always been at the forefront of underwater warfare and has built an enduring reputation for professionalism and courage. Submarines combine qualities of stealth, endurance and flexibility, characteristics which give them unparalleled freedom to operate worldwide in support of national and coalition operations. 
Since 1969, the Royal Navy has upheld a patrol mission of Continuous At Sea Deterrence. As the current Vanguard-class submarines reach the end of their lifecycle, they will be replaced by a fearsome new breed of nuclear submarine: the Dreadnought class. 

For more information on Submarines: https://www.royalnavy.mod.uk/our-organisation/the-fighting-arms/submarine-service 

Images credit: Paul Collins