As a Royal Navy survey vessel, HMS Scott scales the world, surveying the waters in a role which has been carried out for centuries. Probing the oceans, survey ships gather and process hydrographic and oceanographic data for planning and operational purposes.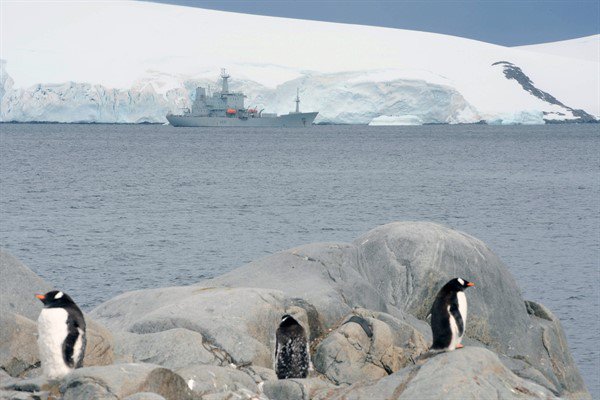 HMS Scott as obscured by penguins
HMS Scott is one of five Royal Navy survey vessels and can remain at sea for as long as 300 days a year. Those on board are helping to secure Britain's global interests while contributing to its maritime security. It is important that those who serve are given the support they need while away from home for nearly a year. The RNRMC ensures that those abroad serving their country are comfortable, thereby helping the crew to carry out their duties to the level expected of sailors of Her Majesty's Royal Navy.
Here is an exclusive look at life on board the survey vessel, HMS Scott…
 "The Wardroom of a British warship is a curious place and HMS Scott's is no different. Part Officer's mess, part bar, part gossip haven, part living room, dining room, and stateroom all rolled into one. It takes on many forms but at its core, the Wardroom is a home away from home for the officers on board.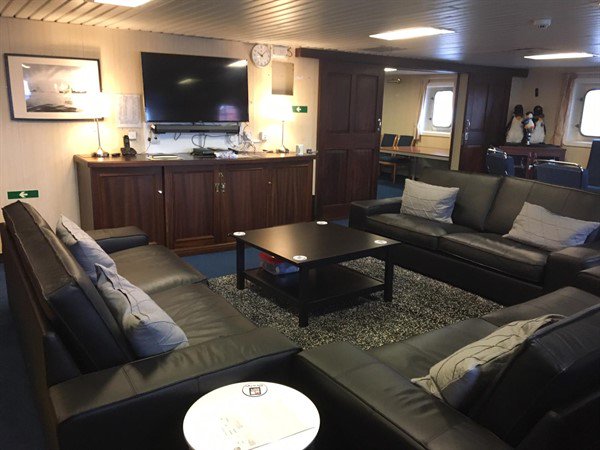 Like at home, there is a familiar structure to it: the Senior Officers are the mothers and fathers (and yes, alright, there are some grandmothers and grandfathers too) who make sure that the others don't step out of line; the Junior Officers are the eldest children who work hard to impress the Senior Officers and even harder to make sure the Young Officers don't get into too much trouble; and finally the Young Officers are the youngest children in the family who somehow manage to get away with everything.
Like at home, the atmosphere fluctuates from week to week, minute to minute. In the Wardroom, it tends to mirror the atmosphere of the ship. If there is a frantic buzz in preparation for Operational Sea Training – or OST, that excitement will radiate around the room. Conversely, if there is a lull in the ships' programme, or something has gone wrong, that tension will hover in the air like a bad smell.
Like at home, there also comes a time when you cannot put off the home improvements any longer.  On HMS Scott, that was this summer while the ship was in a long period of defect rectification first in Plymouth and then in Rosyth. The RNRMC and the Rebalancing Life Fund were essential in allowing us to renovate and upgrade the Wardroom furniture and give 'our home' a much-needed facelift.
After spending hours and hours poring over catalogues, the Logistics Officer used the grant to the ship to purchase a new set of uber-comfortable IKEA leather sofas, a large coffee table, stylish rug, and a set of night lamps. Oh – and four separate blankets to keep everyone warm while we're watching Strictly Come Dancing on a Saturday night.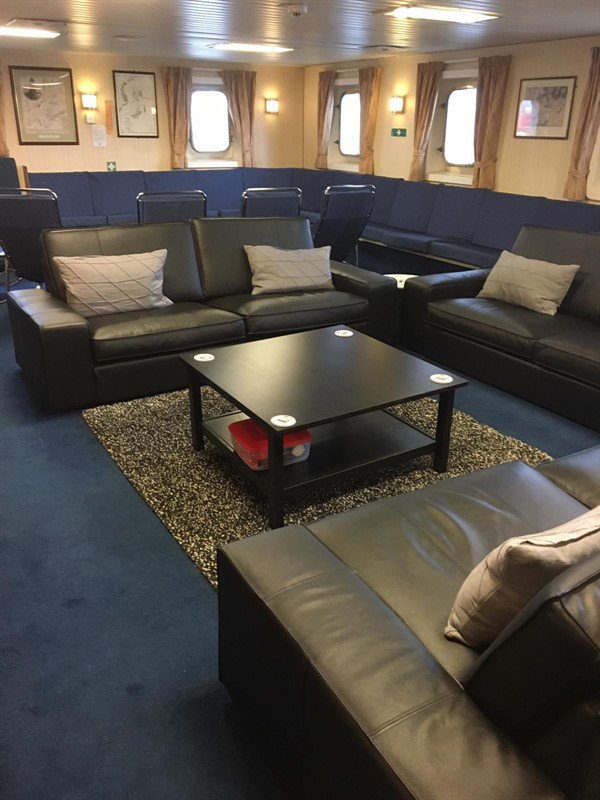 These improvements were important to us in two ways. Firstly, they make our lives on board a lot more comfortable. Just like at home, there is nothing better than after a long day on the bridge or in the engine room or doing whatever logistics officers do to fall back into your favourite sofa and relax. They make our coffee breaks – or standeasy's – more lively; our monthly Monopoly games less stressful (yes, really!); and our regular meetings for work (and yes, they are as exciting as they sound) go by quicker.
Secondly, they allow us to showcase ourselves in a better light. At any given time the Wardroom plays host to visiting Senior Officers (sometimes even Senior Senior Senior Officers), FOST training staff, or contractors and specialists. More importantly, the Captain also occasionally is invited in and it's in everyone's best interests to stay in his good books.  Like everyone, we want to welcome people into our home at its best and the new furniture gave the room a whole new feel. It made it brighter, more open, more liveable, and a place that you went to – not because you had to but because you wanted to.
Finally, it also provided some much-needed entertainment courtesy of our Engineering Officer.  After spending a number of hours sweating over (and swearing at) a half-built IKEA coffee table, our Engineering Officer threw down the instructions and left the room in anger. Bear in mind, this man has a Master's degree in Engineering and is charge qualified to fix and run pretty much any piece of machinery.  After calming himself down, he went back ten minutes later to have another stab at it. He arrived to find the First Lieutenant and the Logistics Officer sipping their coffees around a fully completed coffee table. He again left the room even angrier – much to the delight of those present.  It just goes to show though that even IKEA items aren't idiot-proof!
A Wardroom is nothing without the people and personalities that make it feel like home. Making those people feel like they have somewhere to go – even more so, a place they enjoy going to – to eat, to drink, to socialise, to relax, to sympathise, to laugh, to get away from their jobs for even just a few minutes and be people and not officers; that is priceless. From the officers of HMS Scott, we want to say a very big thank you to the RNRMC and the Rebalancing Life Fund for granting us the funds to make our Wardroom feel like home. Thank you." 
- SLT Pierce Tattersall, HMS Scott