On Saturday 2nd November, local Southsea businessman, Andrew Pearce  who runs the award winning Creatiques Bridal Boutique in Albert Road, transformed into his alter ego – drag act 'Fabulous Miss G' to host a World War Two themed variety evening at The Royal Maritime Club, to raise funds for The Royal Navy and Royal Marines Charity. 
Champion charity fundraiser Andrew said: "In a year where we have com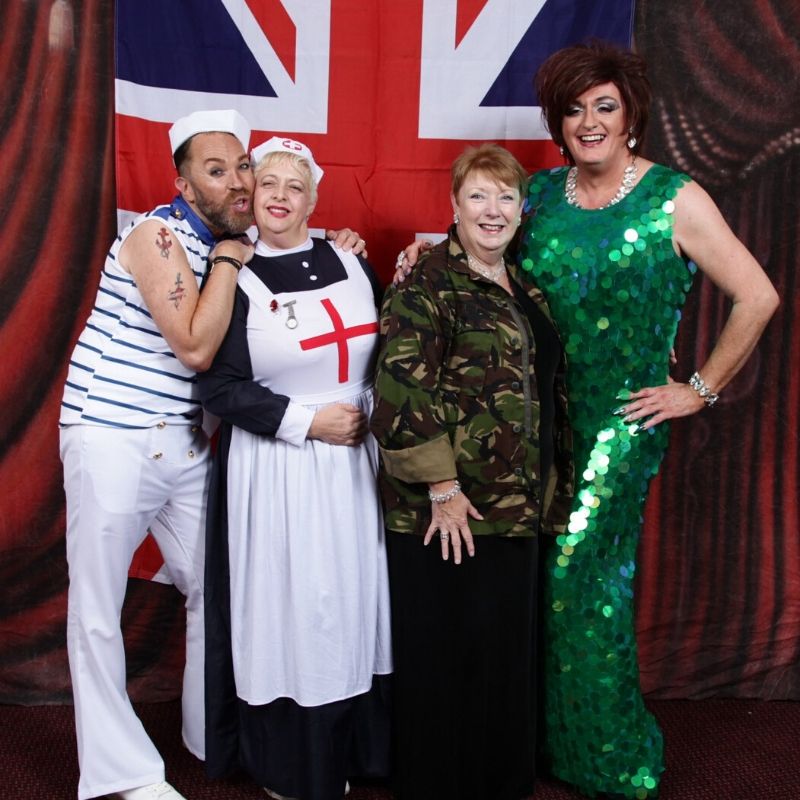 memorated the 75th Anniversary of D-Day, the Royal Navy and Royal Marines Charity was the obvious choice to support at 'Miss G gets blitzed'. 
"Not only does the charity support serving sailors, marines and their families but also veterans who have served their country and to whom we all owe so much." 
The Royal Maritime Club was turned into a wartime dance hall with red, white and blue bunting whilst guests got into the spirit of the evening's proceedings by wearing 1940's themed fancy dress. Upon arrival guests were welcomed to the evening's festivities by a Sir Winston Churchill lookalike and dined on bangers and mash followed by Union Jack cupcakes supplied by Sweet Cakes in Palmerston Road. 
Alongside Miss G, the evening featured performances from Portsmouth vocalist Jodie Vinall, Andrew Talbot-New and Cantando Female Voice Community Choir, interspersed with readings from the diary of a WWII Portsmouth resident.  A rousing sing-along was enjoyed by all, followed by the choir singing "In the Navy" then a disco to finish off the evening. 
Hilary Hesbrook, Regional Fundraiser for The Royal Navy and Royal Marines Charity, said: "What a brilliant evening – a huge thank you to Miss G and everyone who gave up their time to be involved in running the show." 
Miss G's next event will a 'Saturday Night In' on April 25th, 2020. 
If you are interested in fundraising for RNRMC visit our 'Support Us' page