A sailor, who suffered a horrific injury that has jeopardised his career in the Royal Navy, has been given hope of recovery following support from the Royal Navy and Royal Marines Charity (RNRMC).
Johnathon Bulleyment, a Leading Hand with the Royal Navy, was playing rugby for his ship HMS Westminster when an opposition tackle left him with a life-changing injury to his arm.
"I was running down the wing and got picked up and dumped on my neck. It caused me to have a severe dead arm, but it wasn't until a few days later I realised something was wrong."
The ache in Johnathon's arm persisted as he went about his duties on board HMS Westminster. It became so uncomfortable that he had to visit the sickbay, where they suspected he may have torn his bicep. Following a more in-depth consultation with doctors, the extent of the damage to Johnathon's arm was discovered.
"I've got a tear in the labrum of my right shoulder and potential nerve damage to the root nerves. I was devastated when the doctor told me."
The injury has severely limited movement to his right arm and he can now no longer lift it above his waist. This has meant that Johnathon has been unable to deploy on active duty and has been confined to desk work, potentially facing medical discharge. He has also been unable to properly exercise since his injury.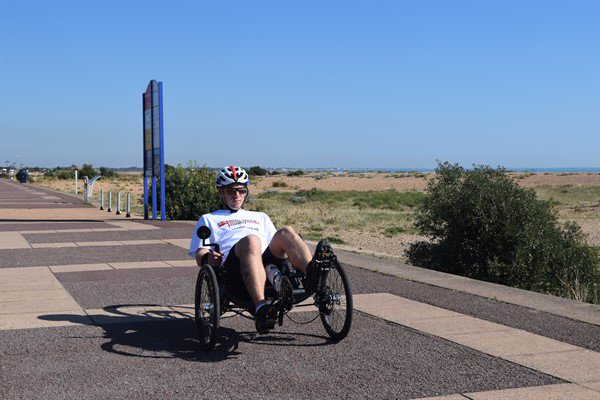 After being encouraged by his physio to find a way to participate in exercise, Johnathon started to make enquiries about obtaining a specialist recumbent trike that he can use to aid his recovery and keep fit.
A recumbent trike is an easy-to-ride bicycle that enables riders to sit in a reclined position and control the direction of bike from controls at waist level. Through collaboration between the RNRMC and Help for Heroes, Johnathon was able to secure funding for a customised trike.
I've had the trike two weeks. I absolutely love it. I cycle to work every day now. It was very easy to reach out to the RNRMC, from having the form sent to me, to the constant contract over the phone - it was just brilliant.
With RNRMC assistance, Johnathon is now able to exercise frequently with his recovery ongoing. He plans a 24-hour charity cycle along Southsea Esplanade to raise funds for the RNRMC – the Navy's Charity.
"Thank you again for everything, I couldn't have got the Trike without the RNRMC – it's made a huge difference."