The RNRMC was fortunate to be able to chat to Cdre Steve Moorhouse ahead of the deployment of the UK Carrier Strike Group, as the Officer responsible for commanding that group of ships, aircraft and Royal Marines.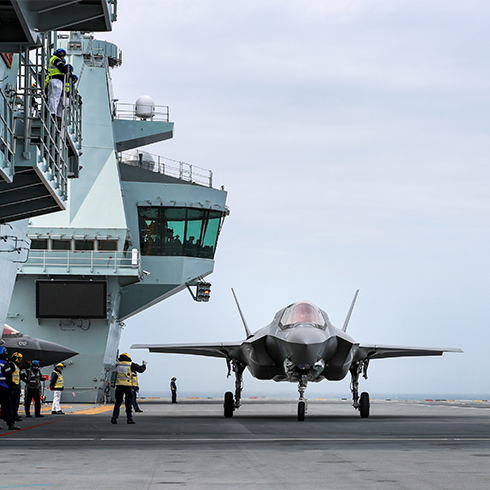 Here is an opportunity to hear all about what the Group is aiming to achieve.
The UK's Carrier Strike Group is led by HMS Queen Elizabeth, the task group will visit 40 nations including India, Japan, Republic of Korea and Singapore in a deployment covering 26,000 nautical miles.
The group will also join up and take part in exercises with French carrier FS Charles De Gaulle in the Mediterranean as well as navies and aircraft from allies such as the US, Canada, Denmark, Greece, Israel, Italy, Japan and the UAE. 
While in the Pacific, ships from the Carrier Strike Group will mark the 50th anniversary of the Five Powers Defence Arrangements between Malaysia, Singapore, Australia, New Zealand and the UK by taking part in Exercise Bersama Lima.
Joining HMS Queen Elizabeth on her maiden deployment are the destroyers HMS Diamond and Defender; the frigates HMS Richmond and Kent; an Astute-class submarine in support below the waves; and Royal Fleet Auxiliary support ships RFA Fort Victoria and RFA Tidespring.
More than 30 aircraft will also embark across the task group including F-35 jets from 617 Squadron, known as 'the Dambusters', and the US Marine Corps' VMFA-211; Wildcat helicopters from 815 Naval Air Squadron and Merlin helicopters from 820 and 845 Naval Air Squadrons.
Royal Marines from 42 Commando will also deploy with the carrier.  Reinforcing the CSG's NATO interoperability the Dutch frigate HNLMS Evertsen and the United States Arleigh Burke destroyer USS The Sullivans are also part of the group.
Carrier Strike offers Britain choice and flexibility on the global stage; it reassures our friends and allies and presents a powerful deterrent to would-be adversaries. Protected by a ring of advanced ships, submarines and helicopters, and equipped with fifth generation fighters, HMS Queen Elizabeth is able to strike from the sea at a time and place of our choosing; and with our NATO allies at our side, we will be ready to fight and win in the most demanding circumstances.
Commodore Steve Moorhouse
Commander UK Carrier Strike Group
Cdre Moorhouse was in conversation with a private audience of RNRMC Nelson's Company members. Nelson's Company is an exclusive group of steadfast friends of the RNRMC and the Royal Navy. There are many special benefits to becoming a member of Nelson's Company, which include diverse event opportunities including our popular 'View from the Bridge' virtual fireside chat series, a gold lapel pin, a regular newsletter and a greater connection with today's Royal Navy.
To find out more, please get in touch with Alicia Burnett at Alicia.burnett@rnrmc.org.uk