The Royal Navy and Royal Marines Charity (RNRMC) supports the entire Naval Fleet, regardless of rank, race, religion, sexuality or gender.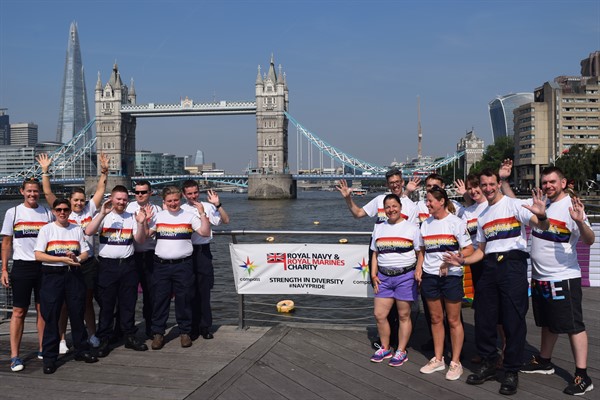 At this year's Pride in London parade, the annual celebration of the LGBT+ community, the RNRMC helped the official Royal Navy Compass support team by providing stylish 'Strength in Diversity' sports shirts.
During one of the hottest days of the year, the LGBT+ support team played a vital role in assisting the many sailors and marines marching through the streets of London in full rig. In RNRMC branded rainbow t-shirts, the group were able to move easily ahead of those marching to offer water and supplies.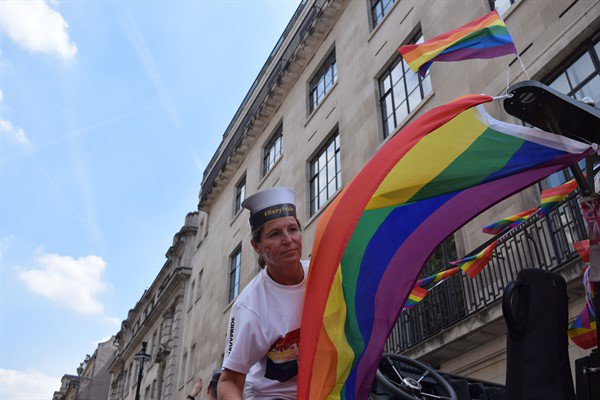 This year was also the first time in the parade's history that the Royal Marines were involved in the march alongside the Royal Navy, Army and the RAF.
Beginning their march at Portland Place, the sailors, marines and the support team were greeted with cheers by the thousands who turned out to watch, as they moved through Regent Street and Trafalgar Square before completing their route at the Cenotaph on Whitehall.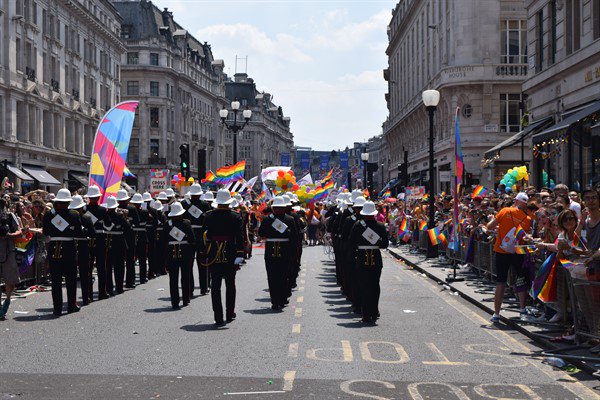 Surgeon Lieutenant Commander Mike Hill, the organiser of the Royal Navy's participation in Pride, said:
"This is my 12th London Pride in the Navy, having been to the very first (Navy) one in 2006. It's so important to support.
"The RNRMC support shirts are awesome – we're loving the rainbow colours and we can't wait to wear them on the parade in front of a million people. The charity offers great support for Royal Navy and Royal Marine events and organisations throughout the Naval Service. Thank you."
The parade is a global event that dates back to the 1970s and celebrates a diverse spectrum of sexualities and genders around the world. In the UK, Pride is held in five cities with London represented by one of the largest audiences in Europe. The Naval Service has been involved in the march since 2006.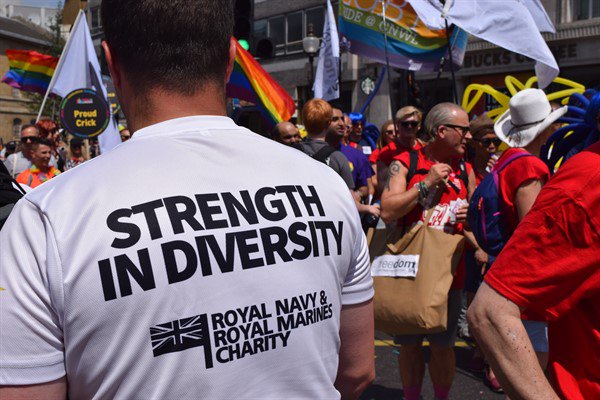 PR and Media Executive at the RNRMC, Fred Stonehouse, said:
"Having attended Pride in London, it was fantastic to see such an incredible turnout of Royal Navy and Royal Marines personnel supporting the LGBT+ community within the Naval Service. We hope the RNRMC's attendance at this event helped reaffirm our continued support for the service's LGBT+ community."
For more information on equality, diversity and inclusion in the Royal Navy and Royal Marines, please visit; https://www.royalnavy.mod.uk/equality-and-diversity