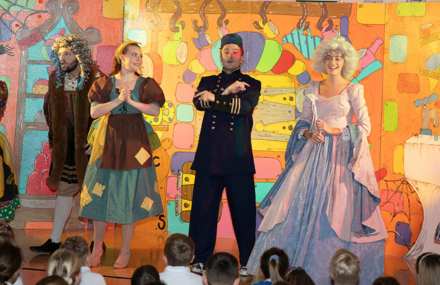 The BFF Panto Bus is more than a show; it's an experience that brings joy, laughter, community and connection. Through our support, we aim to make this a tradition within bases across the UK and Cyprus, making it accessible to as many families as possible. We are proud to be a part of creating memories that will last a lifetime.
Mandy Lindley, Director of Relationships and Funding
From the middle of November through to the end of December the casts of Aladdin, Dick Whittington and Cinderella will visit military families bases across the UK and Cyprus.  
This tour has been made possible once again thanks to an RNRMC grant of £9,600.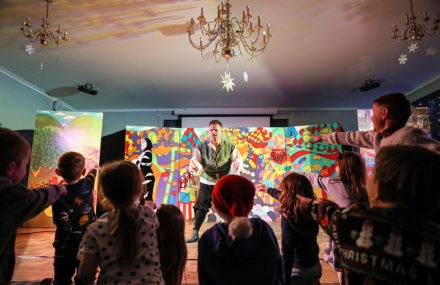 There will be shows at the following locations:  
Dick Whittington:  
17th of November (timing TBC) - HMB Clyde   
17th of December (timing TBC) - RNAS Yeovilton  
Aladdin:  
2nd of December 14.00 - RMB Chivenor   
3rd of December 14.00 - RNAS Culdrose   
4th of December 18.00 - HMS Drake  
6th December 18.30 - CTCRM   
8th of December 17.30 - HMS Excellent  
9th of December 10.00 - HMS Collingwood   
Other locations include 40 Commando RM at Norton Manor Camp, RMB Poole, Taunton and Helensburgh.   
The BFF Panto Bus is incredibly popular and especially important to those communities where families and loved ones are separated by operational deployments over the festive period. We receive more requests for shows than we have the money to deliver, so the support the BFF receives from the RNRMC guarantees their people are at the front of the queue when it comes to allocating tour dates. We are extremely grateful to them for recognising, over many years, the value of the BFF Panto Bus to their communities and the joy it brings.
Mark Seymour, Project Director at BFF
To find out more about performance timings, locations, and to book tickets, please contact your local base.  
To find out more about the support we provide for serving and ex-serving Sailors, Marines, and their families, click here.