The fruity buns are an Easter essential, but did you know about the naval connection to the humble hot cross bun?
Every year on Good Friday, the tradition of the Widow's Buns is celebrated. The Widow's Son in the London Borough of Bromley has upheld its Good Friday tradition of storing hot cross buns in a net over the bar since 1858.
The legend goes something like this. The pub was built on the site of an old cottage belonging to a widow whose only son left to go to sea during the Napoleonic Wars. He wrote to her explaining that he would be returning home at Easter and to have a nice hot cross bun waiting for him.
He never returned, but his grieving mother continued to keep a fresh hot cross bun every Good Friday for the rest of her life.  After her death, a huge collection of hot cross buns was discovered in a net hanging from the ceiling of her cottage. The pub was built in 1858 on the site of the cottage and has carried on the tradition ever since, with a sailor adding a bun to the net hanging from the ceiling every Good Friday.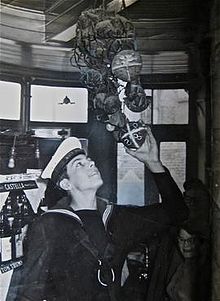 Why not download our colouring-in sheet and 'hang a hot cross bun up' in your house.