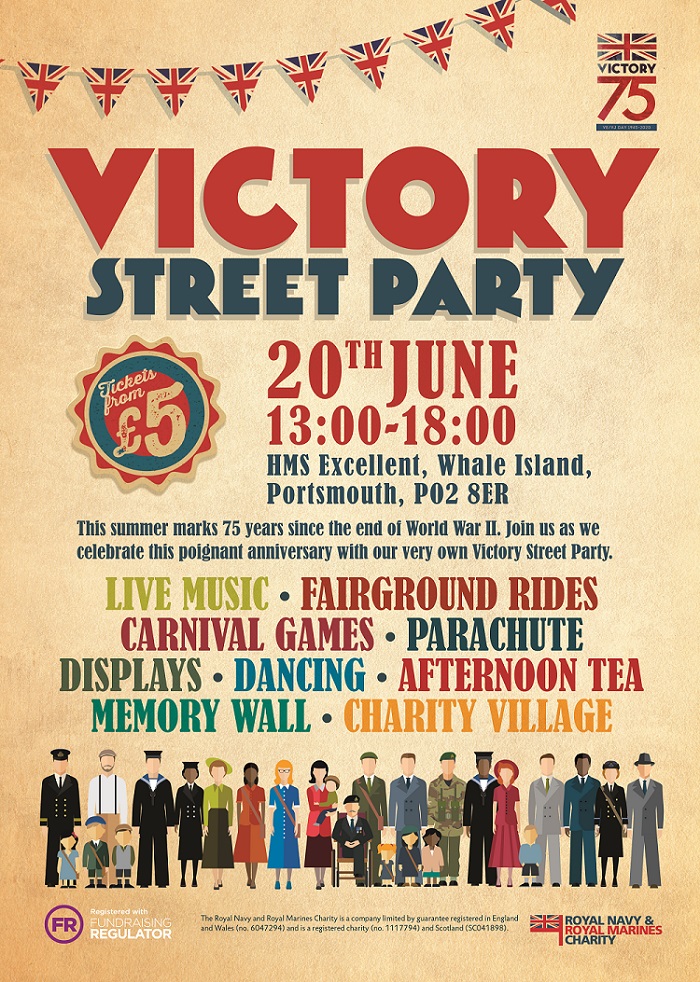 UPDATE: Understandably, the recent COVID-19 outbreak has raised many concerns around the safety of public events.
 
We want to reassure you that the Royal Navy and Royal Marines Charity is closely monitoring the situation to ensure the safety of all our beneficiaries, event participants, suppliers and staff is the highest priority. This is an everchanging situation and we will continue to follow the latest guidelines from the government and the relevant health authorities.
 
We will provide updates via email and on our website.
 
Thank you for your support and patience during these uncertain times.
Saturday, 20th June 2020 
HMS Excellent, Whale Island, Portsmouth, PO2 8ER
This summer marks 75 years since the end of World War II. Join us as we celebrate this poignant anniversary with our very own Victory Street Party.
Be transported back to the 1940s with live music, entertainment, costumes, fairground rides, carnival games, parachute displays, dancing, food, drinks and more. Enjoy a special Afternoon Tea, kindly provided by one of our Charity partners ESS. Gain a deeper insight into WWII at the innovative Memory Wall which features real-life stories and photos from those who took part. Visit the Charity Village to meet with a number of local and national organisations who provide help, support and services for veterans, naval families and serving personnel.
Tickets from £5. Entry to rides and attractions are included in the ticket price. Proceeds will go the RNRMC. Further details to follow.