2,000km. 14 days. Two Royal Navy Officers.
Two Royal Navy officers will cycle from Lands End up to John O'Groats in aid of the Royal Navy and Royal Marines Charity (RNRMC) to support military mental health. 
Stars and Spokes, made up of Aircrew Officers Pascal and Dan, will take on the challenge between 18 - 31 July. Their route will see them make stops at various military establishments across the UK and also include some overnight wild camping.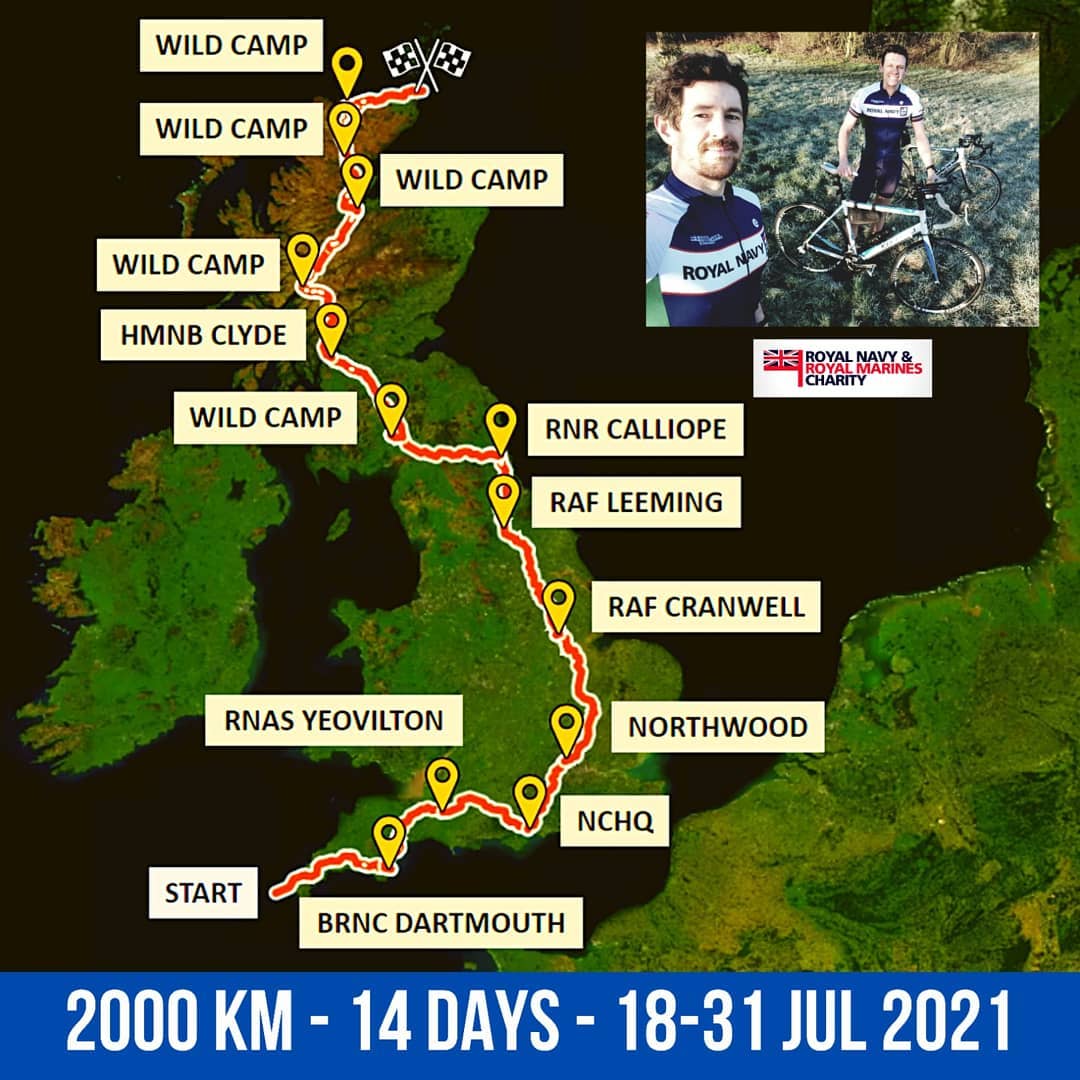 Pascal, Expedition Leader, said: "I see this challenge as an opportunity to give back to the Royal Navy and Royal Marines, organisations that have given me so much over the years. In particular, mental health is incredibly important for our personnel, it is vital that we collectively provide the necessary support to those who have been through so much. Hopefully the scale of our challenge will generate much needed awareness and funds for our charity."
The pair originally planned to take on a 5,000km ride across the USA, however this has been postponed due to Covid. In 2022 they will be riding entirely unsupported from San Diego (California) to St Augustine (Florida), across the USA from the Pacific to the Atlantic.
Dan said: "When Pascal suggested this challenge to support the RNRMC I leapt at the chance. They are a fantastic organisation who give so much back without question. A great friend of mine died in military service not long ago, the charity offered wonderful support to his family, during what was an incredibly difficult time. I see this ride as my way of saying thank you, and hopefully helping them in turn to help someone else in need."
Pascal and Dan joined the Royal Navy on the same day in January 2005, and continue to serve. Since joining, both have enjoyed varied and challenging careers as Aircrew Officers, deploying all around the world on frontline operations. They undertake this ride with the full support of the Royal Navy and Royal Marines, the resilience and determination required in such a physical challenge embodies the spirit of the Service.
*We'll be bringing you daily updates on Stars and Spokes throughout their challenge on our Facebook page.
Follow them on:
Facebook - @starsandspokes
Instagram - @starsandspokes
Twitter - @starsandspokes
Website - www.starsandspokes.com