A group of 60 brave fundraisers completed a nerve-wracking abseil down the Goliath Crane in Rosyth, raising money for two national charities.
The group abseiled 300 feet from the top of the Goliath Crane at the Babcock site in Scotland on Saturday 22nd September and Monday 24th September. The crane was used in the assembly of the Queen Elizabeth-Class aircraft carriers – HMS Queen Elizabeth and HMS Prince of Wales.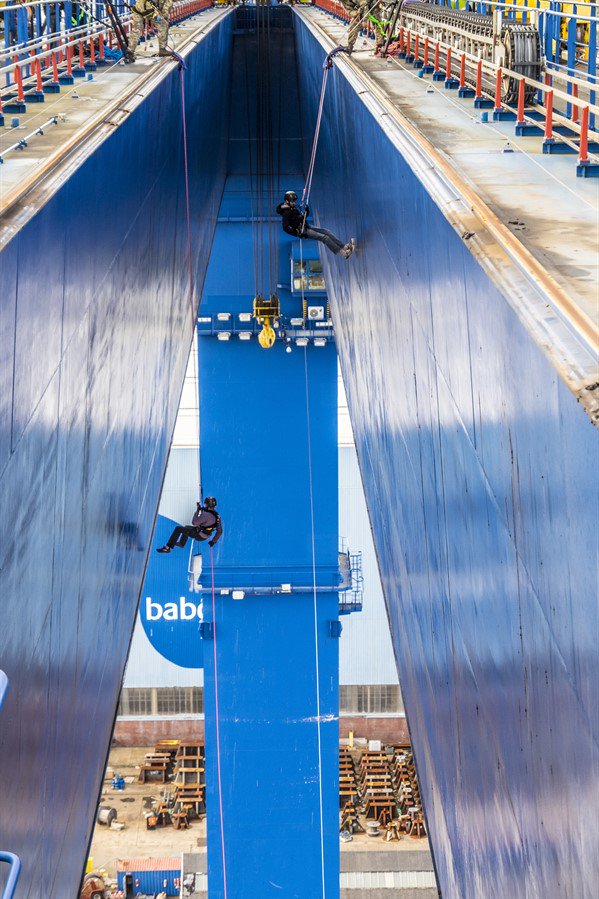 Almost £7,000 has been raised so far with all funds being equally divided between the Royal Navy and Royal Marines Charity (RNRMC) and Children's Hospices Across Scotland (CHAS).
The abseil, which was run by the Royal Marines' Corps Colonels Department (CTCRM), saw employees from the RNRMC, Babcock, Aircraft Carrier Alliance and Royal Navy personnel taking part.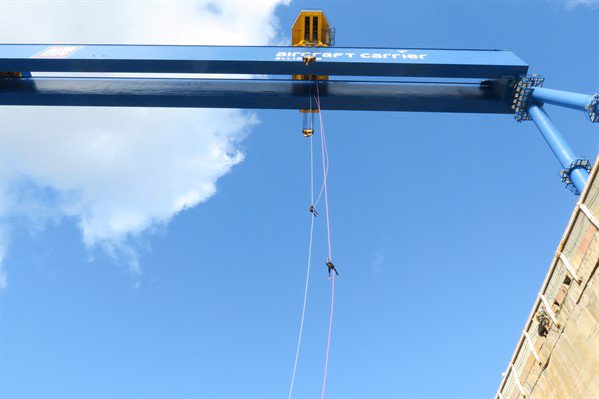 One of those fearless enough to take on the 'Goliath Drop' was Bob Hayter, Finance Manager at the RNRMC. Speaking about his experience, Bob said:
"I'm incredibly pleased to have completed the Goliath Drop in one piece! It was very windy which made having to abseil from 300 feet a real challenge. Once we got going I really enjoyed it and to do it for the RNRMC, a charity very close to my heart, makes it all the more special."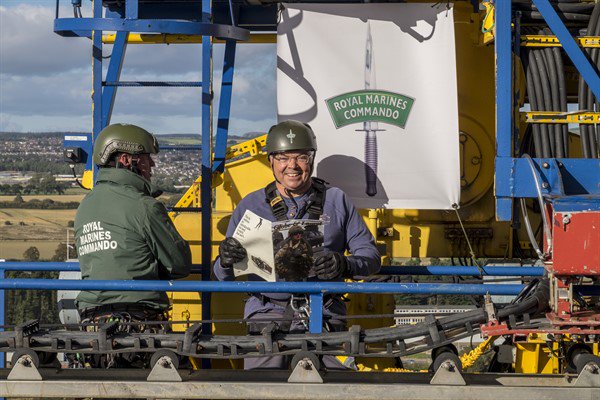 Director of Fundraising and Marketing at the RNRMC, Alasdair Akass, said:
"On behalf of the charity, I would like to congratulate all those who were adventurous enough to take part in this spectacular challenge. Having volunteers abseil down a crane pivotal in the construction of two of Britain's largest ever warships, all the while raising money for the Royal Navy's charity, is fantastic."
The abseil was a success and all participants finishing the challenge safely with a large amount of money raised for both the RNRMC and CHAS. Marlow Ropes, a leading British manufacturer of specialist synthetic fibre rope, generously donated the ropes for the abseil.